This Vintage Mercedes-Benz O319 17-Passenger Omnibus Van Is Far Out!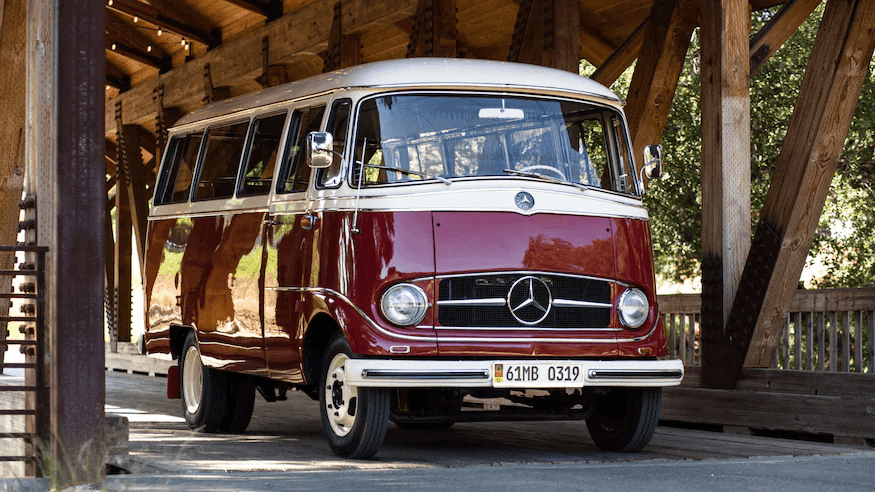 If it looks like a bus, if it acts like a bus, then it's probably a bus but in this case, it's a Mercedes-Benz O319 17-passenger Omnibus, a large capacity van that became available in 1961 and was reportedly used by an Idaho ski resort as a shuttle for employees. The bus drives on a shorter wheelbase and is shorter overall than a Chevrolet Suburban, but it can carry just as many people. The Omnibus also has a charmingly vintage appeal as a variant of the L319 truck and van platform constructed by Mercedes parent company, Daimler.
The Omnibus was partly motivated by the success of the Volkswagen Type 2, which had a similar goal but on a smaller scale. At the time when Mercedes was building the Blitz military truck fashioned by rival Opel, the company had not yet built any commercial vehicles since World War II. When the L319 was introduced in 1955, it was tasked with a pretty big job reviving the idea of Mercedes-Benz commercial vehicles to the market and it certainly succeeded. In a similar way to the Type 2 Bus, it took on a cab-like engine configuration and provided a shorter overall length with great forward visibility.
More than a dozen passengers would be able to fit into the Mercedes bus, though with a bit of effort considering that the doors are on the driver and front passenger side, requiring the passenger seat to fold forward in order to access the vehicle with of course front occupants coming in last. Without question, this vehicle's arrangement provides much practicality.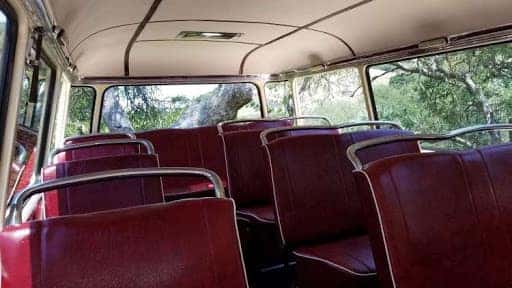 Photo Source/Copyright: MSN via Automobile Magazine Staff
The O319s initially were powered by either a 74-horsepower gasoline or 46-hp diesel four-cylinder engine, as you can see the ol' crooner wasn't exactly a powerhouse in its own right but then again, it is a bus carrying a multitude of passengers, so it's not like it needs an overzealous amount of acceleration. 
The interior was redesigned to fit 17 passengers as well as the driver, with the seats reupholstered in red vinyl during the renovation. The floorboards were paneled with new carpet in the cab section and new rubber mats by the passenger seats. There's also new wood on the side panels, ceramic thermal coatings, and a Dynamat underneath the new headliner. One distinctive finishing touch in the interior is the reupholstered dashboard along with the white two-spoke steering with that was fitted with a new chrome horn ring.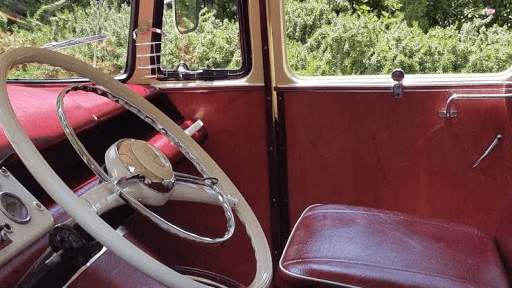 Photo Source/Copyright: MSN via Automobile Magazine Staff
This O319 model was also recently up for auction on vintage automobile site Bring A Trailer and ending on April 29th, with the winning bid being $82,500. The winner will enjoy the refitted Toyota 20R 2.2-liter gas engine in the model and overall reliability.
John Sisson Motors
Although the refurbished O319 17-Passenger Omnibus is no longer up for sale, John Sisson Motors is never out of stock! We have a wide range of different Mercedes models that range from economically-friendly to sporty and daring. Check out our new online car inventory and if you see something that you like, feel free to chat with an online representative for further assistance.
Photo Source/Copyright: Automobilemag via Bring A Trailer