The Progression Of The Mercedes-AMG® Black Series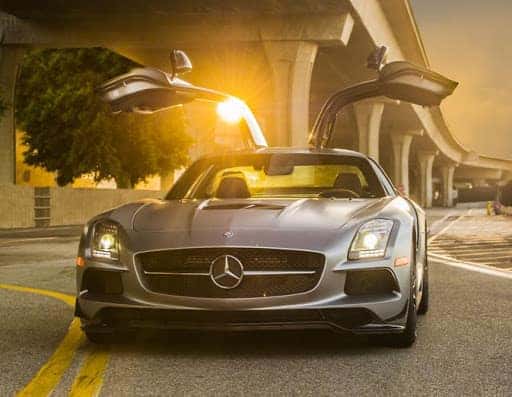 In the early 1960s, Hans Werner Aufrecht and Erhard Melcher became founders of Mercedes AMG® Engine Production and Development and also played a part in the 300 SE racing engine development program until Mercedes removed itself from motorsport. But this didn't mean that the dynamic duo had to retire, as Aufrecht and Melcher instead improved and refined the AMG® engine. Throughout 1965, motorcycle racer Manfred Schiek used the engine while competing in the German Touring Car Championship, thanks to his tuning activity and wins, Aufrecht and Melcher founded the AMG® company (now Daimler AG) in 1967. By 2006, AMG® Performance Studio released a steely-nerved and track-let's do this version of the Mercedes SLK roadster, thus spawning the dawn of the 'Black Series'. Let's explore different ways how this series has progressed through the years.
SLK AMG® 55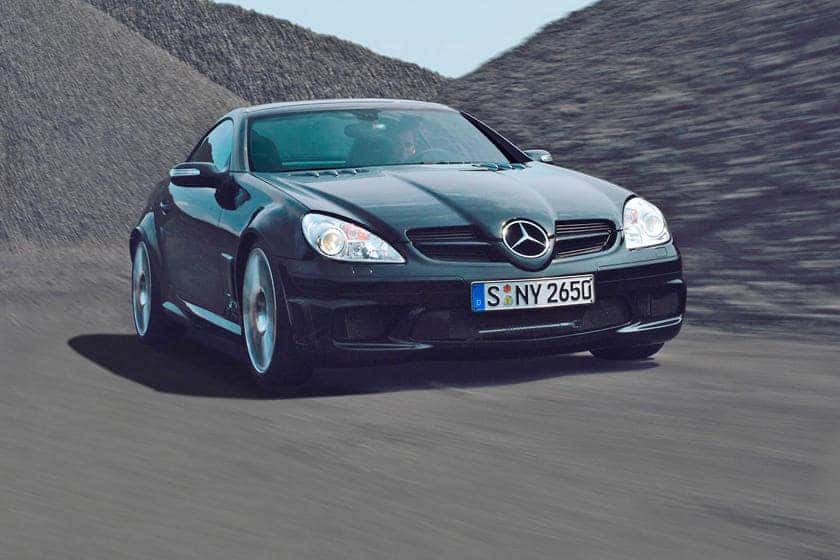 The unveiling of the SLK55 AMG® Black Series in 2006 revealed an absolute beast of a roadster. It rocked a naturally aspirated 5.5-liter V8 engine that pushed up from 360 to 400 horsepower. It had a manually adjustable suspension and 19-inch forged wheels encased in Pirelli performance tires. The chassis was strengthened, the brakes were augmented, and the electronic stability control got a tuning of its own. The fenders were expanded for the wider tires, and the hardtop was swapped for a permanent carbon-fiber roof. The car drove from 0-60 mph in only 4.7 seconds and came at 174 mph. 
CLK 63 AMG®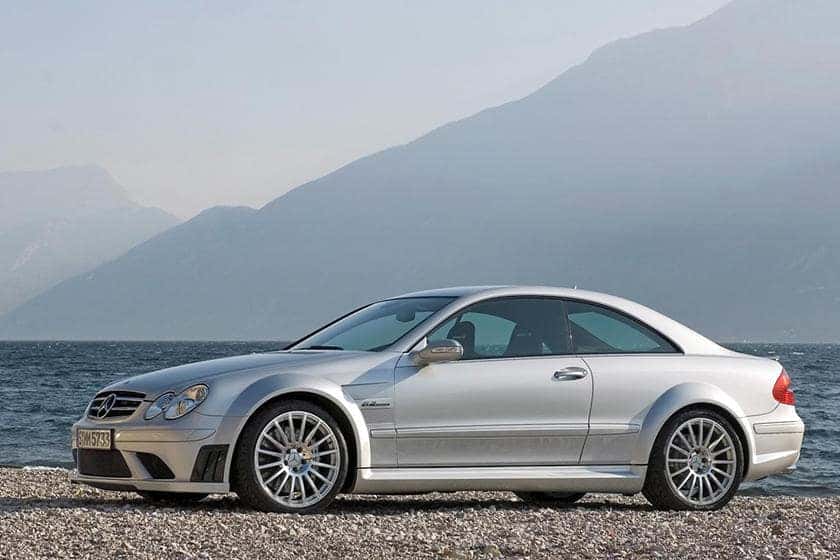 Mercedes changed its tune from the roadster to the AMG® CLK 63 Coupe. This transition from forced induction 6-cylinder engines to naturally aspirated 8-cylinder engines helped to produce the renowned M156 6.2-liter V8. This car boosted an amazing 470 horsepower, but in the Black Series, it made 500 horsepower with 465 lb-ft of torque. The CLK's new suspension made for adjustable rebound and compression damping, as well as ride-height adjustable springs. The chassis was reinforced, the brakes were enhanced, the rear seats were removed, and the fenders were expanded enough to give a completely different look.
SL 65 AMG®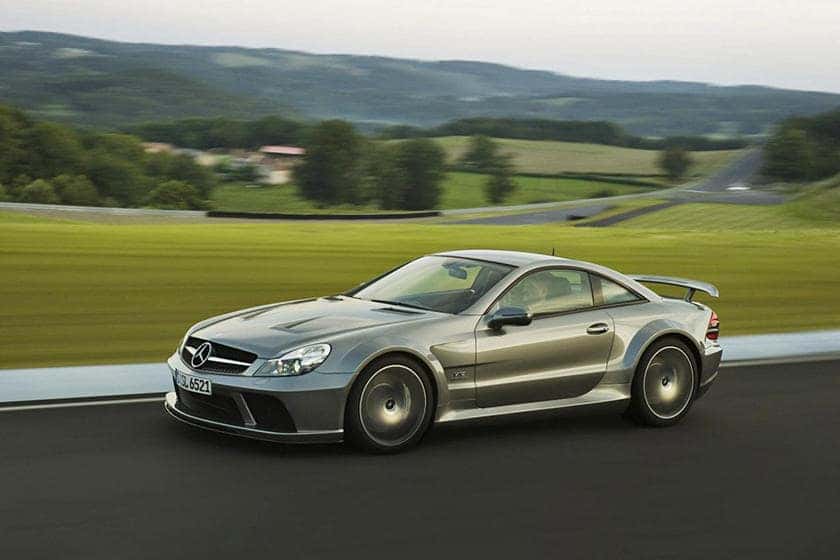 The 2008 AMG® Mercedes-Benz SL made a shift back to a much sleeker and sexier roadster and was made available with a bi-turbo V12 engine, which came up to 490 horsepower and 590 lb-ft of torque. The Black Series version had larger turbos and leveled up big time with 661 horsepower and 738 lb-ft of torque, especially with the help of the AMG® Speedshift Plus 5-speed automatic transmission. Upgrades were made on the chassis, suspension, and brake provided, though the HWA Engineering was responsible for the bodywork. The fenders were also expanded to create giant-sized Dunlop Sport Maxx GT tires.
C 63 AMG®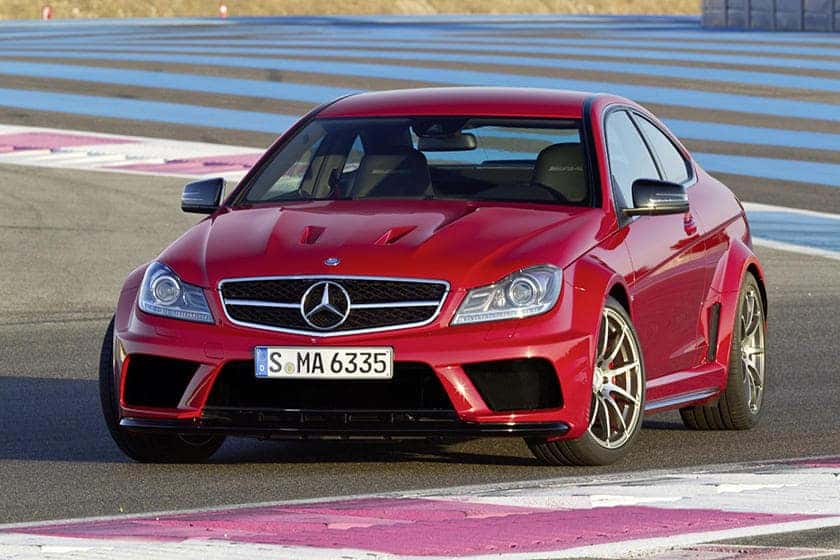 In 2011, Mercedes-Benz released the C 63 AMG® Coupe Black Series, with a new version of the M156 6.2-liter V8 engine. Eventually bettering itself to 6.3 liters, it pushed out 510 horsepower with 457 lb-ft of torque, pairing up with a 7-speed automatic transmission. Grip and handling were improved and has a redesigned front axle, adjustable suspension. The automaker even took an unexpected approach by offering a Track Package and Aerodynamics Package, which turned out to be a big hit, so much so that Mercedes reworked its 600 unit production limit to 800.
SLS AMG®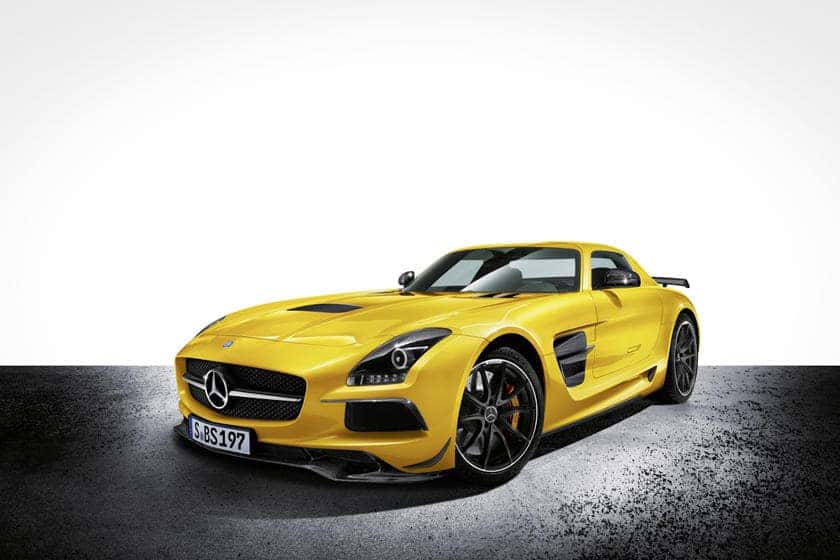 The 2012 SLS AMG® is considered a favorite to many and to some an icon, simply for its thrill-seeking nature. The 6.3-liter V8 engine gives out 622 horsepower and 468 lb-ft of torque with a 7-speed dual-clutch automatic, pushing 62 mph in a jaw-dropping  3.6 seconds. The car's redline was lifted from 7,200 to 8,000 rpm, a titanium exhaust roars like a lion. The available Aero Package tacks an adjustable carbon-fiber wing, which just magnifies the overall fierceness of the SLS AMG® Black Series.
On top of this, the AMG® Ride Control suspension was well-tuned, and the electronically powered AMG® rear-an axle differential lock served as the replacement for the mechanical differential with a variable one and diminished the drive ratio. Regardless of these extra features, the car still weighed in at only 3,417 lbs.
AMG® GT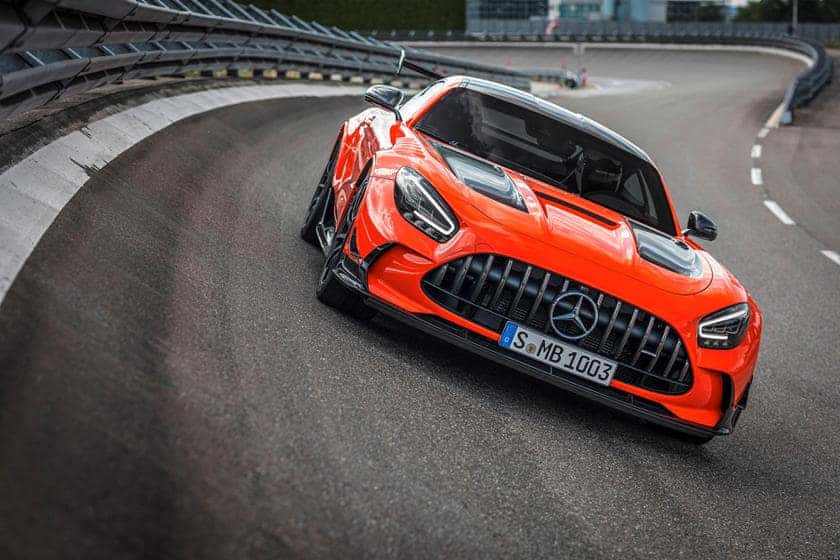 Last but certainly not least, is this year's AMG® GT Black Series. This absolute knockout of a vehicle cranks up to a whopping 720 horsepower and 590 lb-ft of torque thanks to its 4.0-liter twin-turbo V8. This engine has gone through considerable advancements to the point where it's almost unrecognizable to its predecessors. Inclusive of other things, the firepower cylinders rock new camshafts and exhaust manifolds, in which the twin-scroll exhaust turbos are fixed with new friction bearings. All of this and the involvement of the tightened 7-speed transaxle gives this GT model 0-60 mph of time in 3.1 seconds, and an even more impressive 0-124 mph in 9 seconds.
In nearly all parts of the 2020 AMG® GT, it has been provided with new aerodynamic elements as well as some with carbon fiber. The adaptive suspension gives drivers three modes to choose from, and the Goodyear Pilot Sport Cup 2 R MO tires were especially progressed for this model. Furthermore, the differential has 9 different levels of programmable slip, and the rear wing can be adjusted. 
John Sisson Motors
At John Sisson Motors, you can be a speed racer too with our incredible selection of AMG® models, more specifically our GT's. Those interested in our AMG®'s or any other Mercedes models can simply view our online new car inventory and chat with an online representative for further assistance!
Photo Source/Copyright: Mercedes-Benz Media Newsroom USA (main photo) and Daimler