The Mercedes-Benz Sprinter Revamps Into An Off-Roading Sanctuary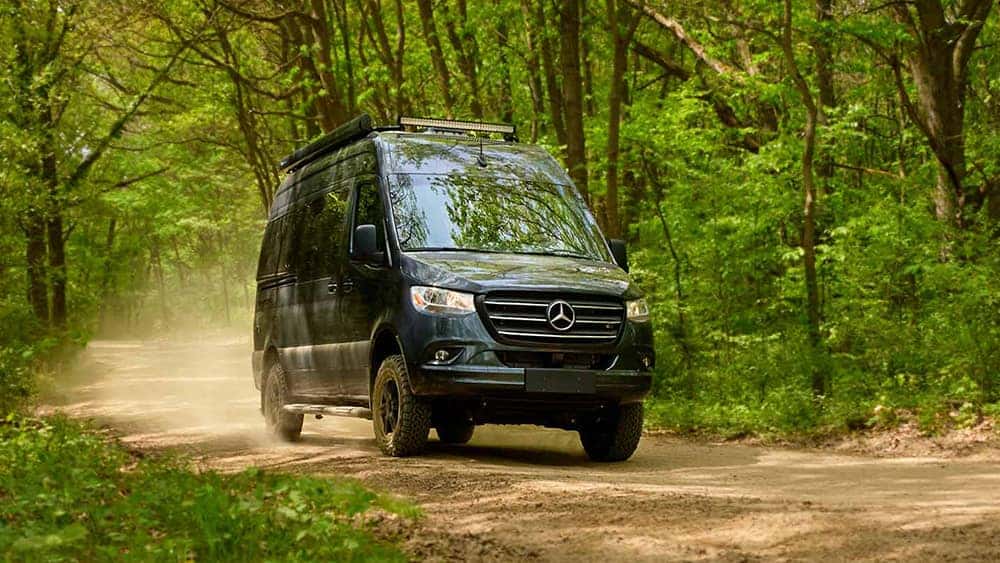 The summer months are often filled with exciting exploits and (hopefully) animated adventures, and for those who are really looking for the escapade of a lifetime, a vehicle equipped with off-roading features is just what you need. In these situations, Thor Motor Coach is the one to go to for incredibly luxurious motorhomes. Recently, the RV company has revealed a new camper guaranteed to provide an opulent experience on your journey.
Thor Motor teams up with luxury German automaker Mercedes-Benz, by making use of their Sprinter 2500 4×4, dubbing the redesigned van the appropriate moniker "Sanctuary". It keeps the Sprinter's simplistic exterior style along with the 188 horsepowered turbo-diesel V-6 engine, but that's where the equivalences stop.
The Sanctuary is convenient for the driver since it's geared with an all-wheel-drive (AWD) system, and more than fitting for the passengers with the various comforts to make for a pleasurable camping experience. The rolling lodge is available with two distinct floor plans that are both equipped in accommodating all of those who are aboard. The central contrast is that the 19P involves a bench in the rear that converts into a makeshift bed, while the 19L encompasses a double bed that is already attached. The common rooms are also a bit different between the two designs.
Besides that, both vans are outfitted with a full cooking area that includes all that one would need for the ultimate dinner party, such as a countertop, refrigerator, dual-burner gas cooktop, traditional microwave oven, and stainless steel sink. The Sprinter even involves an outdoor fold-out table should you prefer eating your lasagna while basking in the sun.
Otherwise, the interior is set up with a cassette toilet, sink, shower and wet bath, along with a 2-liter freshwater tank and Truma Combi water heating system to ensure that you have a warm shower after a long day of outdoor quests.
During times of leisure, travelers can enjoy technological amenities like a 24-inch TV, JBL Flip speaker, Apple CarPlay and Android Auto. This is backed by a Winegard Connect 2.0 system that entails a WiFi extender, 4G hotspot, and TV antenna.
On the outside, the van involves a retractable power patio awning with integrated LED lighting, coupled with a rear-door bike rack and ladder to aid in reaching the roof rack. It's also supplied with a 190-watt rooftop solar panel, plus an Onan 2500 LP generator and a 1,000-watt inverter for authentic off-road living. As a matter of fact, the Thor Motor asserts that the setup produces enough clean energy to charge the A/C for nearly eight hours. If that doesn't impress you, you can choose to buy the supplementary 400-Ah lithium battery package for added power.
Regarding the performance, drivers that are already familiar with the regular Mercedes-Benz Sprinter should expect the handle to act the same as this camper model. If after reading this article, you've decided that you're game for this one-of-a-kind off-roading experience, parting with $150,000 will prove to be worth it.
John Sisson Mercedes
Whether you're looking for an adventure on or off the road, John Sisson Motors has you covered. We carry a wide range of Mercedes-Benz vehicles, including that of the Sprinter van. We also carry a wide range of SUVs such as the G-Class wagon.
Those who are interested in any of our vehicles can simply view our online new car inventory and chat with a representative for further assistance.
Photo Source/Copyright: Thor Motor Coach