The Latest 2021 Mercedes-Benz E-Class Scores With Its Big Four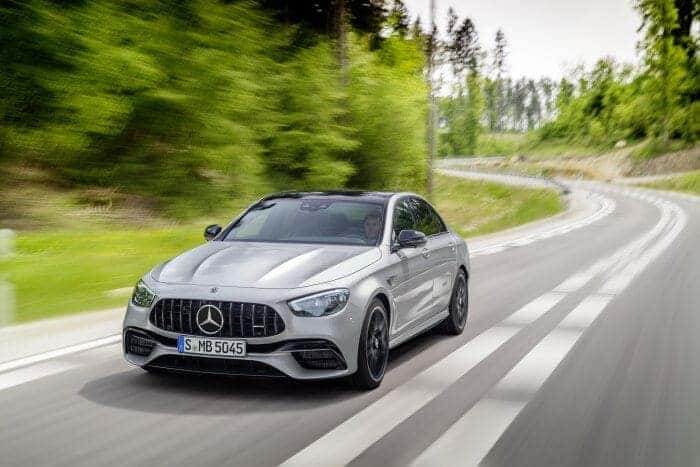 The 2021 Mercedes-Benz E-Class isn't just coming, it's already here, and it's back and better than ever as a quadruple threat with its sedan, coupe, Cabriolet, and new All-Terrain wagon models. These cars are also bringing with them some exciting new features such as a turbo 3.0-liter inline-6 engine, a large 12.3-inch digital instrument cluster with a 12.3-inch multimedia display, a developed "Hey Mercedes" voice control system, and new three metallic colors.
The upscale styling and updated technological systems make the 2021 E-model the one to beat against its competitors in various segments like the Audi A6 against the E sedan models, and especially the Volvo V90 Cross Country against the Mercedes All-Terrain Wagon.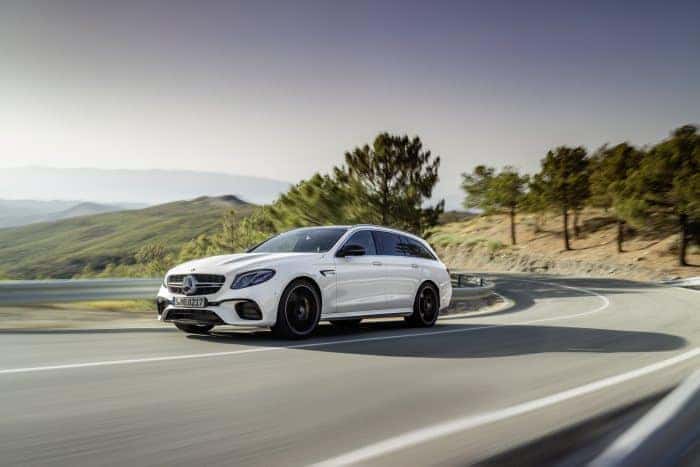 Engine
Starting off with the base E 350 sedan, its 2.0-liter 4-cylinder engine remains unchanged and still produces a solid figure of 255 horsepower and 273 lb-ft of torque. It teams up with a 9-speed automatic transmission, which is a standard for this platform and is available in either rear- or all-wheel-drive.
Next, a turbocharged 3.0-liter inline-6 engine is responsible for powering up all E 450 models:  Sedan, All-Terrain, Coupe, and Cabriolet. This engine provides a far more impressive and speedy 362 horsepower and 369 lb-ft of torque. The addition of its 48-volt mild-hybrid system tacks on an extra 21 horsepower and 184 lb-ft of torque. Moreover, this engine also brings along a highly efficient 4MATIC® all-wheel-drive powertrain, guaranteed to bring one smoothness and cutting edge performance.
The AMG® E 53 is essentially a more augmented version of the 3.0-liter engine, especially since it almost doubles in range from its incredible 429 horsepower and all-wheel-drive. One can drive with this engine in either the sedan, coupe, or cabriolet models.
As great as those engines are, let's get real for a second, if you're going to a Mercedes dealership to buy an E-Class, you better go big or go home, and nothing rings more true than the heavyweight champion E 63 S (sedan or wagon). This model carries a mighty and handcrafted 4.0-liter twin-turbo V8 and boosts a peel-your-skin back 603 horsepower. According to the automaker, this monster will get one from 0-60 mph in just 3.3 seconds in the sedan and 3.4 in the wagon.
Exterior
As one should expect from the high-breed E-Class, its exterior styling is one that is fresh and futuristic. Up front, the hood rocks a matching set of power domes, it also receives new LED headlights that acts as a great supplement to the revamped single-lower chrome and gross-black styled grille.
New this year is the All-Terrain model, which was deliberately created to resemble a type of SUV. As a result, this wagon of sorts has an arch-like profile that is outfitted with a distinctive grille, black fenders, and a chrome finish on the front skid plate.
In regards to the latest coupe and cabriolet trims, they look rather spiffy due to their LED highlights, restructured grille, and LED taillights that have improved in their interior structure.
Other new styling features include more metallic point colors, specifically Cirrus Silver, Graphite Gray, and Mojave Silver. Additionally, the E couple has the Designo blue color available, while the Designo red really jazzes up the cabriolet.
The AMG® performance trims have a design that is much more fierce, threatening, and delightfully sinister. Their profiles are lowered, aesthetics are darker, has a unique vertical bar grille, and exhaust outlets on the rear that signify just how powerful these models are.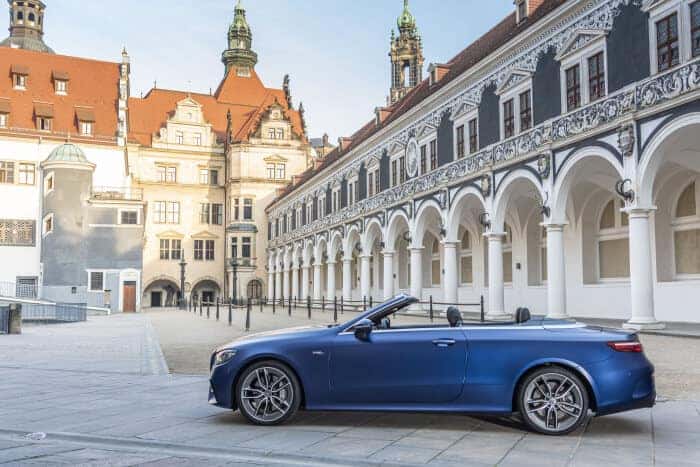 Interior
The main highlight of any vehicle by Mercedes-Benz is its sexy and luxurious interior. The 2021 E-Class immediately entices the driver with its new steering wheel that has either a leather finish or a fuse of leather and wood. But don't be fooled into thinking that this wheel is only good for its looks, the gloss-black controls have the sensitivity to know when the driver's hands are on it, which is necessary for the car's multitude of available driver-assistance technologies.
The dashboard has quite an upgrade with the dynamic duo of the 12.3-inch screens, encompassing the instrument cluster and infotainment system. Purposefully, these screens are controlled by touch-control buttons with capacitive sensing, which is a bit more resistant to fingerprints. Drivers also have four different display styles to choose from, which are Modern Classic, Sport, Progressive, and Discreet.
Like previous models, the E-Class sedan accommodates up to five people, while the new All-Terrain wagon seats up to seven; this is as a result of the latter's 3rd-row folding bench. These seats are ideal for providing long-term comfort and support, especially with the adaptive driver's seat, which allows said person to enter their height on the media display, following the seat to automatically adjust in a suggested position.
The E 450 Cabriolet is a 4-seater integrated with a power-operated convertible top, which has a few neat systems to help regulate top-down airflow. An example of this is the Airscarf, which enables warm air to circulate through the driver's and front passenger's neck area for a more comfortable top-down driving experience, which is all done at just a push of an electric button.
Similarly, the E Coupe also has its seats limited to just four.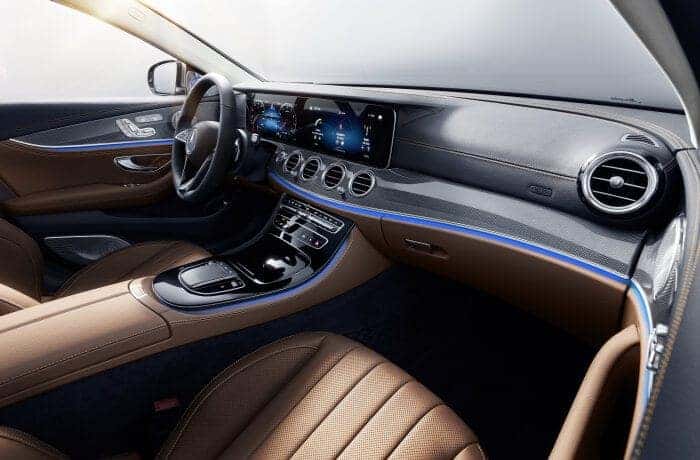 Highlighting Features
Mercedes-Benz always delivers on their promises when it comes to innovation in not just their styling, but technological and performance features. 
Mercedes-Benz User Experience (MBUX)
Undoubtedly, the Mercedes-Benz User Experience (MBUX) system is one of the most advanced infotainment features in the automotive industry. As previously mentioned, this program can be functioned by the new center touchscreen or buttons on the steering wheel. That said, the most convenient way to operate MBUX is by simply saying the activation phrase "Hey Mercedes." The system also has learning capabilities which makes it easier for it to find the nearest restaurant or preferred climate setting for the user. 
Air Body Control
This type of air suspension is standard on the latest E-Class trim, All Terrain, and also serves as an option on other models. Its functions include providing passengers with incredible comfort during the drive, automatic lead-leveling, and superb body control on curved and twisted roads. The suspension damping automatically adjusts depending on the conditionals, and there it does an exceptional job in reducing body lean while cutting corners.
Standard Tech Features and Options
Mercedes has a magnificent mixture of standard and optional features for its latest E-Class model. Other than the MBUX system and digital dashboard, standard features on every E model include a power sunroof, a navigation system, Apple CarPlay/Android Auto, heated power-adjustable front seats, and push-button start. Standard features on upgraded trims include 64 available colors of ambient interior lighting (AMG®), power-folding soft top (All-Terrain), and a Warmth and Comfort Package (AMG® 63 S).
High-ranking optional goodies that one can enjoy include air suspension, massaging seats, a head-up display, a surround-view camera, a panoramic sunroof, and a heated steering wheel. In terms of safety, it's recommended to splurge on programs like the Lane-keeping Assist, Adaptive Cruise Control, Active Lane-keeping Assist, and the new Exit Warning Assist, which alerts one of approaching vehicles as they exit the car.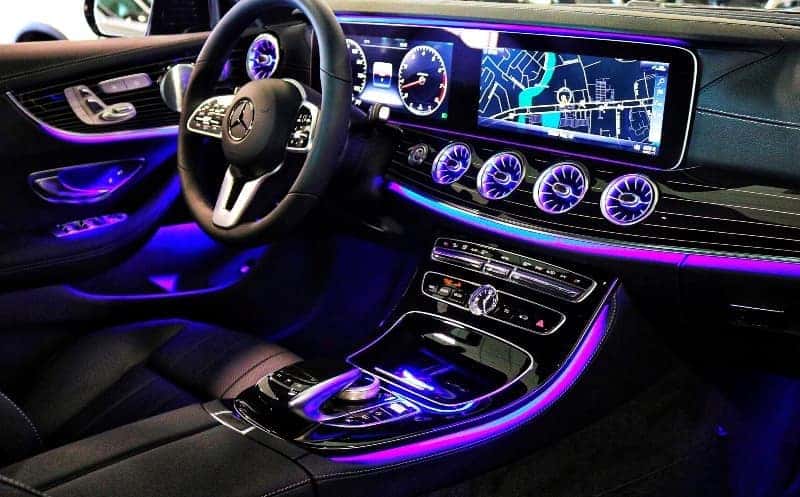 John Sisson Motors
The 2021 Mercedes-Benz E-Class has a Manufacturer's Suggested Retail Price (MSRP) for the base rear-wheel-drive E 350 sedan for $54,250, (plus destination fee). The All-Terrain, 4MATIC® models goes for  $67,000 (plus destination fee) while the Coupe starts at $64,950, (plus destination fee). Finally, the classy Cabriolet ranges from $71,950 to $82,850, (plus destination fee), depending on the buyer's engine choice.
When you do decide to purchase a spanking new E-Class, be sure to do it John Sisson Motors. We have an extensive range of Mercedes-Benz models that suit a variety of different needs and are range at different prices. Those who are interested in any of our models can simply view our online new car inventory and chat with a representative for further assistance.
Photo Source/Copyright: Daimler and CarNewsUSA (Tech Features)
*European Images Shown