The 2022 Mercedes-Benz G-Class and Its Limited Edition 550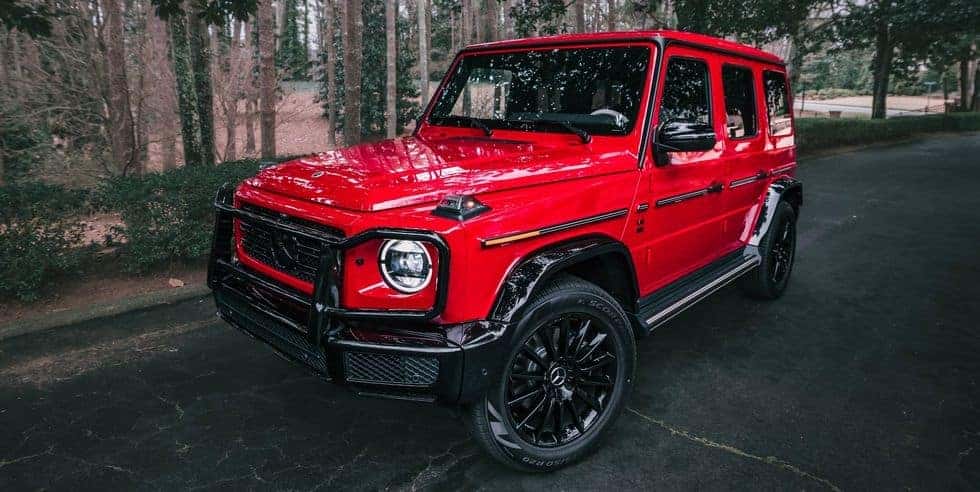 The G-Class Edition 550
Mercedes-Benz recently gave us a sneak peek and a bit of information regarding its new G-Wagon truck, this special edition is dubbed the G-Class Edition 550.
The deluxe G truck is developed upon the 550 model, meaning that it will be powered by the 4.0-liter turbocharged V8, which has an output of 416 horsepower and 450 lb-ft of torque. It will also consist of three color choices: Jupiter Red, Arabian Grey, and Moonlight White. The Moonwhite White color in particular is a new color option. The Edition 550 also has a "1 of 200" badge, meaning that the automaker is only going to make 200 of these specs.
Potential owners may find similar distinctions of this limited find on the interior, specifically the passenger grab handle with the "1 of 200" mark. According to Mercedes-Benz, G-Wagon Edition 550 is accessible with a slew of interior options, ranging from "two-tone Nappa Leather upholstery with diamond stitching to Active Multicontour Seats and Carbon Fiber trim." 
The company did not reveal the actual cost of these models, nor have they mentioned when to expect the trucks to arrive on the market. However, seeing how the demand for a regular G-Wagon is quite strong, we can assume that the price will be quite hefty.
Top 3 Features Of The 2022 G-Class
Evergreen Styling
The G-Class truck is the embodiment of saying "If it ain't broke, don't fix it", as this vehicle remained nearly the same since its first incarnation. The classic boxy shape is easy to spot wherever you go and received a few nips and tucks throughout the years. It's for this reason that this Mercedes-Benz model is considered a great option for buyers who plan on keeping their vehicle for a long time.
Off-Roading Assistance
The G-Wagon also excels off the road, with its comprehensive monitoring systems,  multi-mode traction, and suspension settings. It's also just as useful for owners who aren't as adventurous, as it's likely that a lot of them won't make the most of the all-terrain capabilities. In actuality, these trucks are frequently bought by celebrities located in urban areas rather than farmers or those living in rural areas.
Climbing Abilities
Those living in mountainous areas are all too familiar with dealing with steep hills, some an average sedan or even some SUVs may not be able to conquer. However, the latest G-Class has the ability to crawl up to a 45-degree angle, which is completely gradient. This statistic has been supported on several occasions by official Mercedes-Benz press stunts, along with a YouTube engineering channel.
Ultimately, this Wagon is clever in its design, has sticky tires, and has a distinctive shape. For the most part, this SUV is one of the best in its segment for hill-climbing enthusiasts, as many of its competitors will be quite unstable in their attempt to go up a similar slope.
John Sisson Mercedes
When the time finally comes to purchase your spanking new 2022 G-Class, be sure to do it at John Sisson Motors. We sell a wide range of vehicles from the brand, including this classic G-Wagon. 
Those who are interested can simply view our online new car inventory and chat with a representative for further information and assistance.
Photo Source/Copyright: Mercedes-Benz