The 2021 S-Class: Pre-Safe, Rear Airbags, and E-Active, Oh My!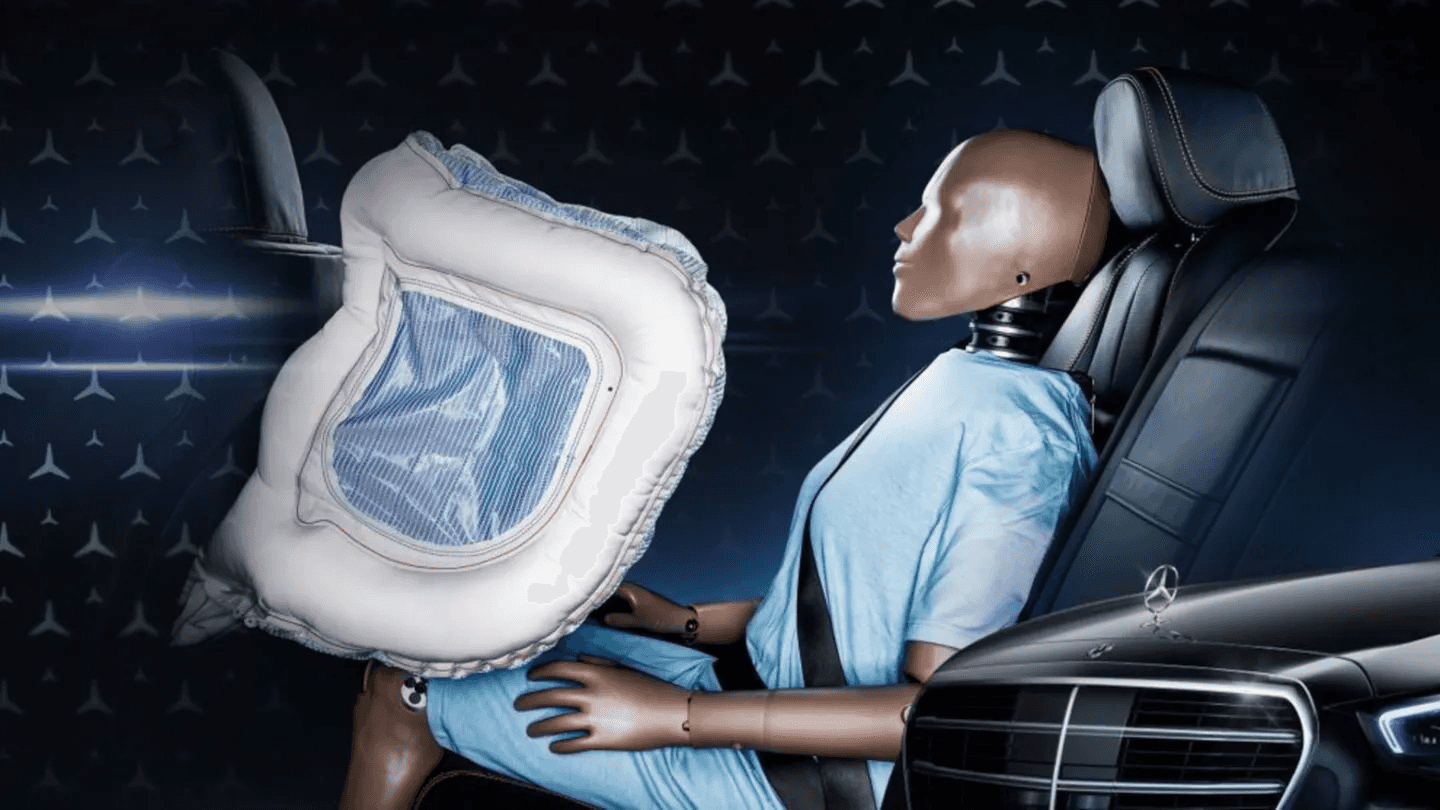 Despite the fact that we will not be able to see the unveiling of the latest Mercedes-Benz S-Class until September of this year. Slowly but surely the company is releasing bits and pieces of information regarding what to expect from the forthcoming opulent sedan. On Wednesday (July 29th) the automakers made it known that the cool cruiser will have all-wheel steering and an extraordinary suspension that can analyze the road. It will also include perhaps one of its most highlighting new features, which are new rear-seat airbags and active safety features for side impacts.
Game-Changing Safety Features
A very unique feature that will be included in the 2021 S-Class is the Pre-Safe Impulse Side. In a nutshell, this system will use its radar to be on the lookout for any indication of an oncoming collision. If the Impulse Side does in fact sense a need to brace for impact, the car itself will lift itself up three inches in order to deflect the other vehicle from hitting the door entirely, instead just hitting the studier door frame. How's that for safety!
Another cool feature is in Mercedes's executive rear-seat package, in which rear airbags will be implemented. More specifically, the front seat headrests will feature wing-shaped airbags, which will be of great benefit for avoiding serious front collisions.
"With the new S-Class we are now proudly presenting the world's first frontal airbag for the passengers in the rear," said Dr. Thomas W. Hellmuth, head of body and safety for the S-Class. "The rear airbag with an innovative, tubular structure is unique, allowing it to deploy in a gentle manner. Naturally, the passengers should continue to fasten their seatbelts, and now with the new, illuminated-design belt buckles, putting on seat belts is even more intuitive." Mercedes also says that the flexibility of the bag and its formation makes it fitting for those in various age ranges, especially children.
Speaking of children, a brand new in-car monitor is said to be included, parents can keep watch over the shenanigans of their little ones from their front seat via the display of MBUX infotainment system. Additionally, there will be an alert that indicates if the tiny tot has unbuckled his or her seat.
New Driving Features
Now let's get to the amenities! Mercedes E-Active Body Control system is now available on this 2021 sedan. With this feature, the air suspension dampens when encountering unstable road conditions for a smooth sailing ride. Cameras mounted in the windshield will also be used to detect any holes or cracks in the road, and send that information to the suspension. Moreover, the Body Control includes a Curve feature, which reduces body roll when coming upon a corner.
Conclusively, the S-Class will have available rear-axle steering. During speeds under 37 mph, rear wheels will turn in the opposing direction of the front wheels to diminish the turning radius of the car by seven feet to below 36 feet. Above 37 mph, the wheels will turn in the same direction of the front wheels for better stability. New owners have the option of choosing whether the rear wheels turn at 4.5 degrees or 10 degrees. 
John Sisson Motors
When the 2021 S-Class finally does arrive, be sure to purchase it at John Sisson Motors. We have a wide range of Mercedes models that are suitable for diverse needs and at various prices. For those who absolutely can't wait for the latest S-Class can also purchase a 2020 version at our store, it rocks a dynamic 4.0-Liter V8 Twin Turbocharged engine that pushes our 463 horsepower with 516 lb-ft of torque and is loaded with advanced tech features. 
Those who are interested in any of our models can simply view our online new car inventory and chat with a representative virtually for further assistance. 
Photo Source/Copyright: Mercedes-Benz Media Newsroom USA