The 2020 Mercedes-AMG® GT Brings That Base Back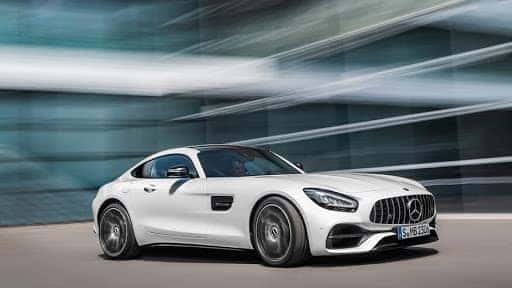 The 2020 Mercedes-AMG® GT is here! This incredibly handsome sports car is brutally quick as it is curvaceous as goes from 0-to-60 mph in less than 3.5 seconds. This is a front-engine, rear-wheel-drive machine charged by an overwhelmingly thunderous turbocharged V8 and great vigor. A standard feature is a dual-clutch 7-speed automatic transmission.
All The Latest!
New Features for 2020 includes an updated interior and exterior of the GT and GT R models. On the exterior, you'll see that there are new LED head-and taillights, a rear diffuser that has been redesigned, new-model-specific exhaust tips, new wheels, and a new Designo Brilliant Blue Magno color.
In the interior, there is a standard 12.3-inch instrument-cluster display that is fully digital, it also includes a new 10.3-inch multimedia-center display. The center console has been revamped with touchscreen interphase as well as an optional capacitive infotainment display. New and standard features on the steering wheel include AMG® Drive Unit controls, and Apple CarPlay/Android Auto integration. You'll also find a new AMG® Track Pace virtual race engineer COMAND® application, this will help those with a heavy foot to monitor his or her lap time.
The new GT can hit 60 mph in 3.9 seconds with the help of 469 horsepower, this gives it a strong value of less than $120,000. However, the GT C models have larger wheels and tires, a suspension that is adjustable, rear-wheel steering, multiplex brakes, and a generous increase in handling and power. It tests 550 horsepower with 0-to-60 mph in 3.3 seconds.
Engine and Performance
All 2020 Mercedes-AMG® GT, GT C, and GT R models are powered by a 4.0-liter V8. They each get a carbon-fiber driveshaft and a dual-clutch seven-speed automatic transaxle, this promotes handling and balance. This engine is quite forceful, with its dry-sump oiling, direct injection, and two turbochargers.
It has been rated to make 469 horsepower in GT models, but GT C variants kick starts to 550 horsepower, and 577 in the GT R as well as the GT R. This also an aerodynamics package that increases downforce by 220 pounds at 155 mph versus the standard GT R, furthering grip and performance on the racetrack. 
Fuel Economy and Real-World Application
With such a dynamic performance, one should anticipate that these Mercedes sports cars will get quite thirsty, but don't panic-the EPA fuel-economy estimation isn't as alarming as one might assume. The GT models are rated at 16/22 mpg city/highway and these numbers drop for more powerful C models to 15/21 mpg.
The GT R and R Pro have a rating of 15/20 mpg city/highway. In comparison, the 2020 Porsche 911 S, which is energized by a twin-turbo 3.0-liter flat-six, is rated at 18/23 mpg.
Comfort and Convience
Mercedes has magnificently updated the interior of its 2020 GT models by adding advanced technology and overall function. The overall build and quality remain unsurpassable, and the cabin material makes the hefty price tag worth it.
The driving position fits just right and the seat comfort is out-of-this-world! You'll find a 12.3-inch configurable instrument display that comes with a new and larger 10.3-inch central infotainment screen. Ergonomics have been improved by the updated center console, which has capacitive-touch controls for the GT's drive-model selector dial to the steering wheel.
Best of all, the 10.1 cubic-feet of cargo space makes the GT's truck twice as big as the Porsche 911's.
Advanced Infotainment
As previously mentioned, the new GT gets a larger 10.3-inch central infotainment screen. The systems functions are handled manually but a touchpad is optional, it responds to smartphone gestures like a swipe, pinch, and handwriting.
Other standard features include navigation, Bluetooth® audio, two UBS ports, a 6-month Sirius XM satellite radio subscription, and Apple CarPlay/Android capability. Onboard Wi-Fi is also available.
Safety and Driver-Assistance Features
Safety first! Standard safety features include front and rear cameras, automatic high-beams, parking sensors, and Mercedes-Benz's Pre-Safe collision-avoidance system. Optional features include blind-spot assist and lane-keeping assist, however, it does come standard on the GT C.  Adaptive cruise control is also available on both the GT and GT C.
John Sisson Motors
Ready to be fast and furious? Don't wait any longer! John Sisson Motors is currently selling the 2020 Mercedes-Benz GT AMG® C Roadster for roughly $180,000, (plus destination fee). The 2020 vehicle also has a limited warranty that covers four years/50,000 miles and includes a powertrain warranty for the same amount of time.
Those who are interested in this year's GT model can view our inventory on our dealership site and chat with an online representative or assistance.
Photo Source/Copyright: MotorTrend
*European Images Shown