Robotaxis Take A Backseat To 2025 Mercedes-Benz Future Trucks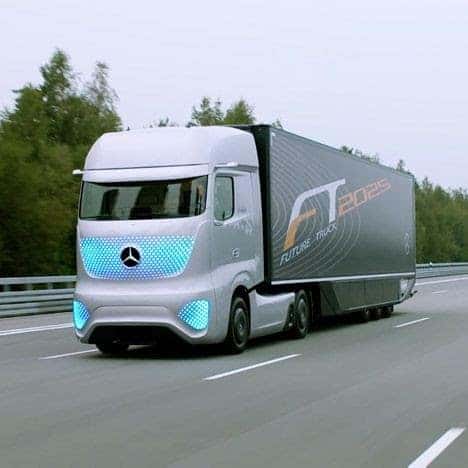 The future is here…well, almost. The Mercedes-Benz self-driving truck is currently set to be released by 2025 and in an unexpected twist of events, before Robo-Taxis. 
According to Ola Källenius, the CEO of Daimler AG, one of the reasons as to why the company is focusing on trucks are safety concerns. There are still some kinks that have to be worked out in order to have robo-taxis capable of driving "crash-free" in urban environments. 
However, with Robo-trucks, there aren't as many obstacles, as vehicles spend around 80%  of their time on high-speed freeways, 10% on regular highways, and just 10% getting to their final destinations. Truck drivers only have to be concerned with taking control of the wheel once they get off the freeway, making this an ideal semi-automatic vehicle.
On the other hand, taxis are still set to arrive before privately owned cars. The first reason is that robo-cars are originally going to be very expensive, especially with their new sensors. Daimler is currently planning to gradually implement their new sensors and autonomous abilities into their new Mercedes cars, as another form of driver assistance, as well as the new BMW's.
Second, Daimler will be able to distribute a number of robo-taxis in a defined area. Since it would be much easier to test these vehicles in a more controlled environment, this would be much easier to implement into the city streets and also help as the company tackles safety issues.
Additionally, there have been many concerns about autonomous vehicles, and one major concern is that it could potentially eliminate trucking jobs. According to Doft.com, trucking jobs are the most common jobs in 29 out of 50 states in the U.S., and there are millions of people working for the trucking industry in non-driving positions. 
On the contrary, it has also been suggested by Bernhard Weidemann, Daimler's company spokesman, that this would not only reduce transportation costs but also make trucking a more attractive career, as there is currently a shortage of truckers.
According to Mercedes-Benz.com, because trucking jobs aren't typically seen as an attractive career option and the overall lack of junior talent, truckers will be needed more now than ever. Autonomous commercial vehicles will change freight traffic, which is a major opportunity for the logistics industry.
The first study found on the future of truck driving conducted with the aid of automobile parts supplier ZF Friedrichshafen and published in 2012; An astonishing 87% of first-time employees surveyed named better working conditions as an important goal of future developments. Nothing has changed since then, as seen in a second study released by ZF in 2014.
One thing that is certain is that when the Mercedes-Benz truck comes into fruition, it will undoubtedly be a game-changer.
This innovative and one of a kind vehicle rolls down the highway at 85 km/h. The tractor also brakes and accelerates with preciseness riding in the middle of the right-hand lane in flowing traffic.
While the driver is seated behind the wheel, he or she can stare at his or her tablet computer and plan their next trip, as well as check the condition of the freight stored on smart pallets in the semitrailer.
In the meantime, John Sisson Motors has a wide range of Mercedes-Benz models, like the current S-Class, as well as other popular models like the SL sedan and Coupe, G-Class wagon, and much more. Those who are interested in any of our models can simply view our online new car inventory and chat with a representative for further assistance.
Photo Source/Copyright: Dezeen