Reasons To Love The Mercedes-Benz 2020 CLA 250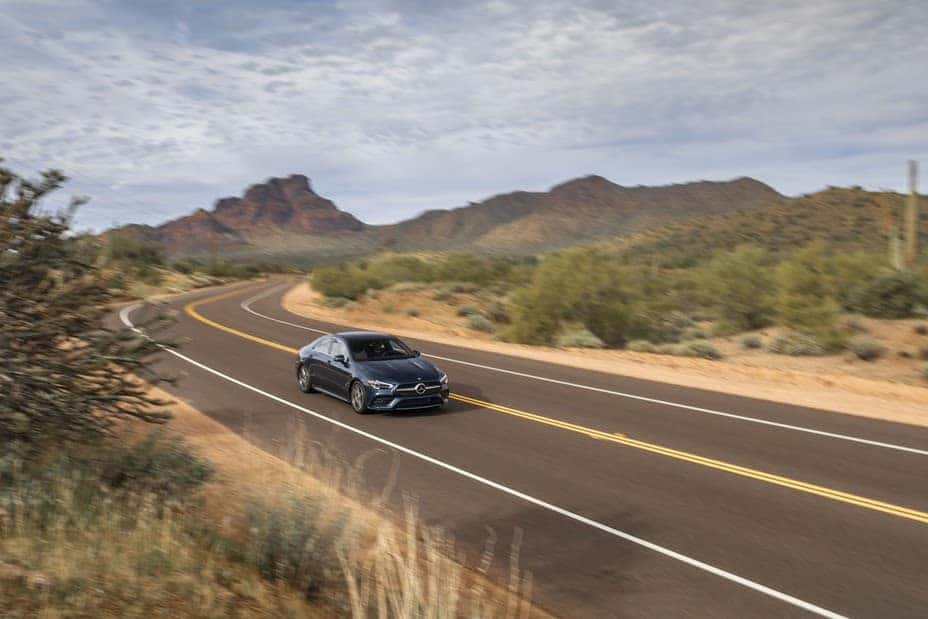 The 2020 Mercedes-Benz CLA is one of the most inexpensive vehicles of the brand. Its clever coupe-like design invites buyers in, while its sophisticated tech features keep them wanting more. This sedan's spirited drive, upscale interior, and good fuel economy are just a few reasons to love the 2020 Mercedes-Benz CLA!
Great With Speed
The CLA 250 is powered by a turbocharged 2.0-liter four-cylinder engine that creates an exciting 221 horsepower with 258 lb-ft of torque. The engine pairs up with a 7-speed automatic transmission. The standard Dynamic Select further enhances one's driving experience by allowing them to switch in various different driving modes like Eco, Comfort, Sport, Sport Plus, and Individual.
Marvelous Handles 
At first, the 250's chassis may give the illusion that the car has more weight than it actually does, which isn't necessarily something to worry about. The ride overall may make one feel like they are a professional on the race track, and it's also pretty quick. The steering is remarkable and adjustable to your preference.
For the most effective drive overall, it's recommended to opt for CLA's 4MATIC® version, as it provides an even smoother delivery, as well as with the aid of its automatic suspension.
Good Cargo Space
With 13.1 cubic-feet, the CLA provides a decent amount of cargo space for your weekly grocery shopping. Although it's not comparable to SUV standards it still beats out its top-rate competitors like Audi A3, with only 12.3 cubic-feet of space.
Swanky Interior
The cabin has made significant improvements such as with its large digital touch screen and circular turbine-like vents that have mood lighting. For a car that has such a budget-friendly price it might be surprising to some just how ritzy that it looks. It's more than clear that the materials were used strategically, creating a similar luxurious experience than that of more expensive Mercedes models and certainly better than any other brand.
Classic Mercedes gems that you are bound to find include adjusters for the front power seats located on the door panels, an automatic start/stop system, and a push-button starter located on the dashboard.
High-Tech Features
In addition to the 250's high-class interior design, drivers and passengers will enjoy the cabin's high-class tech features. One of the highlights is its famous multimedia system, the Mercedes-Benz User Experience. It's augmented reality navigation makes you feel like your one of The Jetsons, especially since drivers can call out different commands after saying "Hey Mercedes", in which the system will act as a digital virtual assistant.
Other standard features include Android Auto, Apple CarPlay, Bluetooth®, five USB ports, and HD Radio. Other options include a 10.25-inch digital instrument cluster, a 10.25-inch touch screen, navigation, wireless charging, a Wi-Fi hot spot, and satellite radio. Safety features include a rearview camera, forward collision warning, automatic emergency braking, rain-sensing windshield wipers, crosswind assist, and my personal favorite, driver drowsiness monitoring. 
Good Gas Mileage
Last but not least, the fuel economy of the 2020 CLA takes the cake. It's fuel economy for its 4MATIC® all-wheel-wheel driver rates at 3/33/27 mpg city/highway/combined by the EPA, while the base front-wheel-drive fairs slightly better with 25/35/28 mpg. These numbers are considered to be pretty impressive given the fact that these engines are turbochargers.
John Sisson Motors
Ready to head to the dealership yet? John Sisson Motors is selling the 2020 CLA 250 "Coupe" as a 4MATIC® for roughly $45,000, (plus destination fee). Those who are interested in either this or any of our Mercedes vehicles can simply view our online new car inventory and chat with a representative virtually for further assistance.
Photo Source/Copyright: Mercedes–Benz Newsroom USA