Production Of Mercedes-Benz EV's Expands In Bremen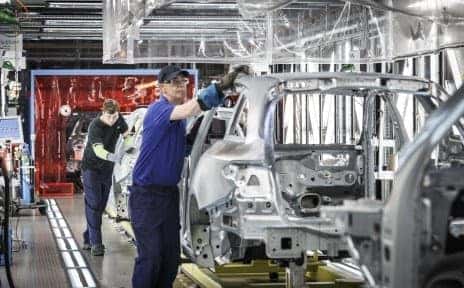 Production In Bremen
In Bremen, Germany, the Mercedes plant has been granted the contract to build a new electric model-exactly which model that remains a mystery. The EQC however, will carry on with production at the plant.
Weser Kurier, a local German newspaper reported that Bremen will continue to be the main plant for C-Class vehicles. All new developments will be assembled at this plant in due course. Mercedes also says that in the EQ series, a new electric vehicle will certainly be made in Bremen.
The start of production for the EQC was "seamless" said Michael Peters, Chairperson of the Bremen Works Council. "We were very proud at the time that the EQC was the first electric vehicle to come from Bremen," he unveiled. Additionally, the manufacturing of the 5-and 7-seater electric crossover is set to be increased sometime this year.
"It is now clear that considerably more hybrid vehicles are to be built this year and that EQC production will continue to increase," Peters revealed. "We're also talking about completely different numbers now. It's really starting." In spite of this high-spirited announcement, neither Peter nor Mercedes provided the figures on this.
Some may have also noticed a contradiction in Peters's statement to news stories earlier this year where Daimler appeared to be burdened by issues with getting enough batteries for the large all-electric car. According to an article from Germany's Manager Magazine in January, inside information reports that Daimler was having difficulty building enough batteries for the electric SUV because LG Chem was unable to supply an adequate amount of battery cells. Due to this circumstance, it looked like the sales targets would decrease from roughly 50,000 EQC to about 30,000. However, Daimler has denied these reports. "The production planning for 2020 has not been withdrawn. We are still planning to have around 50,000 EQC units in production for this year and have purchased cells from various suppliers accordingly." said the company's spokesperson to the automobile news site, Electrictive.
All Things EQ
As previously reported by Elecktric, an online news outlet for electric vehicles, five new models will enter the EQ team. This will include production versions of the EQA and EQS concepts, as well as new EQB, EQE and EQG as part of an $11 billion development program, thus making Mercedes one of the leading electric car brands by 2025. Also, the new introductory EQA EV model will be developed upon the 2nd-gen GLA but with a few changes, like an original and distinctive front and rear styling.
On the flip side, the flagship EQS is expected to have proportions that are similar to that of the current CLS but will incorporate a 5-door hatchback body style for extra usefulness. A 100-kWh battery will also provide 435 miles in the model. Moreover, according to sources from Autocar, EQ Power plug-in hybrid versions of the 2nd-gen CLA, GLA, and the remodeled E-Class will be uncovered at the 2020 Geneva Motor Show in March.
John Sisson Motors
John Sisson Motors always has a wide range of Mercedes vehicles in its possession, from luxury sedans to minivans, to sports vehicles to sporty-like vehicles. You name it, John Sisson has it! Visit our dealership site to view all of our new Mercedes-Benz inventory and speak with an online representative for more information.
Photo Source/Copyright: bremen.eu