Mercedes-Benz Unveils The First Production EQS…FINALLY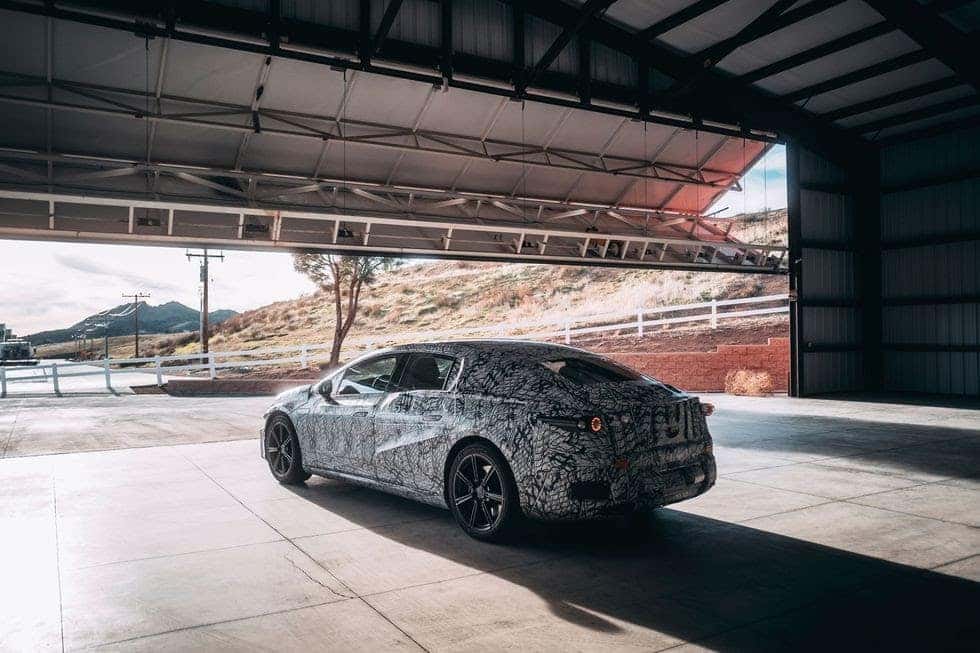 It's about time! Mercedes-Benz recently unveiled its first non-spy shot/official photo of its production EQS electric vehicle, though still with a camouflage suit.
Just last year, the Germany luxury automaker released its next-generation EQ electric model along with the EQC SUV.
Progress isn't as fast as we'd hoped, but Mercedes parent company, Daimler, plans to speed things up with the flagship brand for various new models in the upcoming years. The impending Mercedes EQS sedan, which is a comparable size to that of the brand's S-Class model, is one of the list of vehicles apart of the approaching models.
The concept version was revealed in 2019, and its production form is set to be released into the market by 2021. Although the EQS is currently still covered up, we do have some ideas of what it looks like. 
First off, the concept was already shown through the previous prototype version to have a very futuristic look. As you can see from the picture shot by Mercedes, the company chilled out the look of the production model in distinction to the concept version. Only time will tell if Mercedes also played down some of the EQS specs that they already announced, which were quite magnificent ones to say the least.
The company mentioned that the electric sedan would sport a 100 kWh battery pack allowing "up to 700 km" of WLTP range, estimated to produce over 350 miles of EPA-rated miles. 
In fact, we have previous reports that the EQS 550 4MATIC® was slated to provide 470 horsepower with 560 lb-ft of torque, while legend says that the AMG® EQS will push more than an incredible yet heart-attack-inducing 600 horsepower with 663 lb-ft of torque and includes a new all-wheel-drive system.
The brand also stated that the EQS would have the ability to charge at equal to 250 kW, meaning this would certainly change the game in terms of industry-prominence in charging capacity.
Mercedes-Benz is planning to wholly unmask the production EQS in the latter part of this year for next year's release. The new electric sedan is also anticipated to play some friendly competition with the Tesla Model S, which is dominating market share from Mercedes S-Class sedan for quite some time.
John Sisson Motors
Although the wait for the electrified EQS may take a while, John Sisson Motors currently has a wide variety of premium vehicles that are just as sporty and nearly as technologically advanced as the EQS. A great recommendation to consider is the 2020 Mercedes-Benz GT AMG® C Roadster for drivers who crave something fast, as its horsepower pushes an amazing 550 horsepower with 502 lb-ft of torque. 
For those who are looking for something more tech-savvy, another good recommendation is the 2020 Mercedes-Benz GLA 250 4MATIC® SUV, as it offers features like active-brake, blind-spot, and lane-keeping assist.
Those who are interested in any of our models can visit our website and take a look through our online Mercedes inventory, then speak with an online representative for further assistance.
Photo Source/Copyright: Car and Driver via Mercedes-Benz