Mercedes-Benz Turns Out To Be The Forefather Of Tested Solar-Charged EVs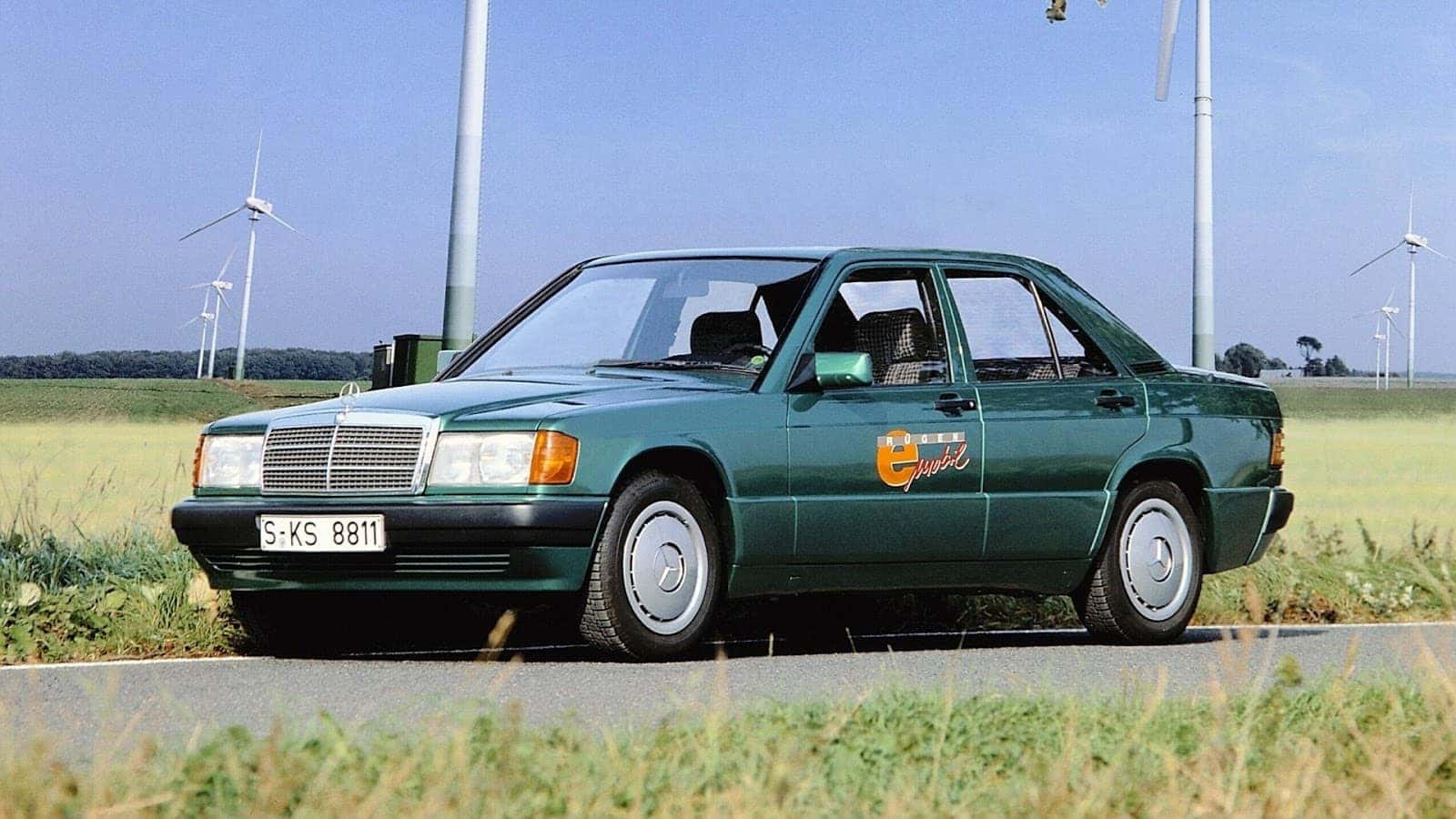 The Solar-Charged Godfather
About a decade ago, the first modern electric cars went on sale with considerable figures, but these automakers (no not Tesla) were testing these progressively modern electric powertrains for years preceding that.
About 30 years ago in 1990, Mercedes-Benz introduced an electric variant of its 190E compact sedan named the 190E Elektro. A year after that, a more developed version was shown at the 1991 Geneva Motor Show.
This new electrified Mercedes vehicle was its first modern compact design. This particular variant, which was known for being apart of the Mercedes-Benz W201 lineup, was the forerunner of the C-Class compacts.
The Elektro was powered by two 16-kilowatt electric motors that could boost up to 26 mpg in horsepower and according to a press release from the company, one motor would power each rear wheel on the vehicle. The 1990 sedan utilized a sodium-nickel chloride battery and just like the electric vehicles of today, included regenerative braking; sodium-sulfur batteries were also tested for this vehicle. The company also states that the inner workings of the battery and voltaic powertrain added on 200 kilograms (400 pounds), though the previous five-seat arrangement was conserved.
10 test cars were made and sent to the Rügen, a German island in the Baltic Sea coastal area. These vehicles were incorporated into a more vast, government-backed assessment of electric vehicles that concerned 60 passenger cars and vans from multiple automakers. Additionally, these vehicles were powered with stations that were valuably designed and connected to solar panels.
Mercedes also stated that those test cars were given over to regular people for ordinary use and with some servicing taxi services. There was one vehicle that went over 100,000 kilometers (62,000) miles in just one year.
At some point, there were concerns regarding battery life and some charging complexities, which are pretty comparable to the same matters today, thus leaving many car buyers hesitant of driving electric models, which ultimately led to Mercedes putting a halt to its development.
"The question remains as to why electric vehicles are only now becoming established and why they did not take off on the basis of the projects of that time," the press release addressing the 190E Elektro asserted, also noting that some engineers who contributed on the formulation of the project are "still active in the company's electric vehicle development and are thus involved in the latest projects."
This leaves us to ponder as to why the luxury automobile company called upon its rival Tesla in its aid for the original making of its modern electric car. The B-Class Electric Drive that was released was later retitled B 250e was a B-Class tall hatchback packaged with a powertrain from Tesla. It was sold in North America from 2014 to 2017.
Elsewhere, Tesla's Model 3 surpassed the C-Class's sales not long after its launch. Model 3 then continued to outperform the C-Class as well as other internal-combustion competitors over the next four quarters, as said by Tesla in its Q1 financial results of 2020.
Now, Mercedes is releasing a tribe of electric models under its EQ sub-brand. The EQC, which is the first among the lineup, is already on sale in Europe, however, the release date for North America has been delayed until next year.
It appears that Mercedes is putting a bit more emphasis on the production of Mercedes models, even though it previously stated that there wasn't much profit to be made in that particular market.
John Sisson Motors
While we're waiting on the launch of Mercedes EV models, John Sisson Motors has a multitude of different Mercedes that prove to be just as energetic and high-tech as any other car brand out there. Check out our new online inventory to take look at all that we have to offer, and once you find something that you like, simply chat with an online representative for further assistance.
Photo Source/Copyright: Green Car Reports
*European Images Shown