Mercedes-Benz Provides Us With A Brand New Batmobile With The 2021 AMG® GT Black Series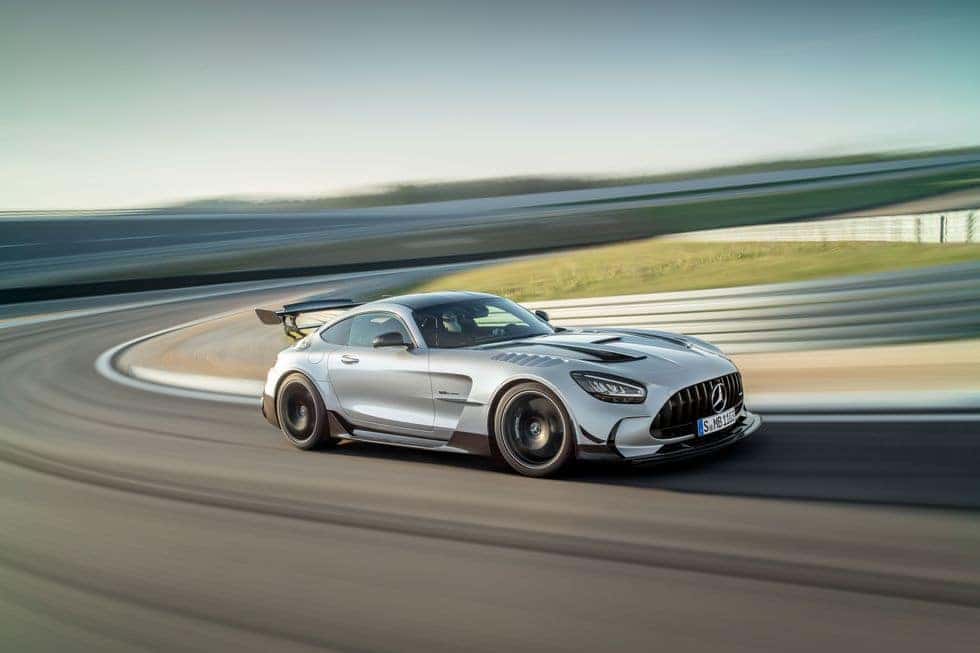 The Mercedes-Benz GT Black Series is making a comeback for their 2021 AMG® lineup. Making an official appearance on Tuesday (July 14) and is expected to become available early of the following year. Although pricing has not yet been announced it has been guessed that it may be around $200,000, (plus destination fee), the same as the 2020 version of the GT R Pro. Built around the AMG® GT3 sports cars, it's married up with a V-8 engine that delivers a stellar 720 horsepower and also includes a variety of different changes that distinguishes itself from other AMG® GTs.
Even a fool can see that the new AMG® GT Black Series is a different type of creature. The Panamerica-influenced front grille is much larger and more intense compared to its predecessors. Carbon fiber has been used generously, in addition to the hood, roof, hatch door, along with front and rear fascias. The hood is also imprinted with large air outlets. A comprehensive area package comes with a manually changeable front splitter and rear wing. The wing includes an active area flap that adjusted electronically by 20 degrees, ironing out for better higher speeds and encouraged to better braking and control stability. The fierce framework and detailing are a sight to see and is further emphasized with the GT's black wheels. 
The extravaganza doesn't just end at the exterior, the cabin includes two seats that have an athletic and venturesome design, which also provides support edgewise, a microfiber steering wheel and door, as well as instrument panels. The M179 LS2  was previously dubbed the M178 engine, but since the 4.0-liter V-8 has gone through many alterations the name change was necessary. One significant change is the distancing from the cross-plan crankshaft, instead using a flat-plane crankshaft that is light and spins more easily in order to permit a throttle response that is even more fearsome. The turbos on the newest GT accommodate a compressor wheel that is larger and can push up to 24.6 psi of power, starting from the maxim 19.6 psi the GT R can provide. Comparable to the GT R, the Black Series makes use of the 9-model traction control system that is managed by a knob located in the central part of the dashboard.
As previously mentioned, the 2021 Black Series horsepower comes up at a max of 720 horsepower and from 6700 to 6900 rpm, it also has a max torque of 590 lb-ft. A 7-speed dual-clutch automatic transmission sends power to the rear wheels and therefore allows the AMG® to zoom from 0 to 60 mph in just 3.1 seconds.
John Sisson Motors
The arrival for the 2021 Mercedes-AMG® Black Series is just around the corner…next year. When the time finally does come to purchase the speedy vehicle, be sure to visit John Sisson Motors. Our dealership has a wide range of Mercedes-Benz models that are technologically advanced and highly capable. We also currently have a 2020 version of the Mercedes GT, specifically the C Roadster. Those who are interested in any of our models can simply view our online new car inventory and chat with an online representative for further assistance.
Photo Source/Copyright: Mercedes-Benz