Mercedes-Benz Pairs Up With Nvidia After It's Split From BMW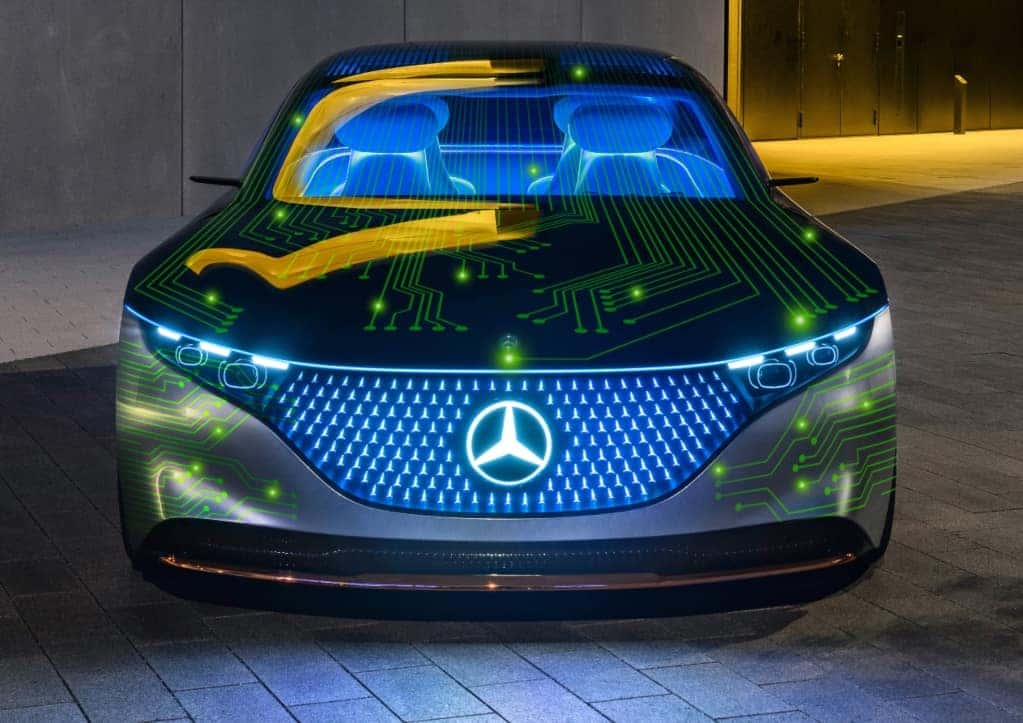 Mercedes-Benz is allying with multinational tech company, Nvidia to produce a next-generation computing platform for vehicles that will support a wide range of systems, like over-the-air software updates to automatic driving. Mercedes says that it intends to start bringing out the new technology across its fleet starting in 2024.
This new platform will be based upon Nvidia's system-on-a-chip Orin technology and will also make use of the San Jose-established company's full Drive AGX software stack. Nvidia's Orin tech was first revealed at CES in December of last year, and besides prime specifications like the means to deliver up to 200 trillion operations per second while without having to use as much power, the company still hasn't given us any extra details.
The platform will also include an entire system of a software stack that can back a multitude of automated driving applications, in addition to progressive driver assist systems such as Tesla's Autopilot and Cadillac's Super Cruise, including driverless parking systems like Tesla's Smart Summon. 
Furthermore, it will allow smartphone-type of over-the-air software updates on all Mercedes models in the next four years. Long-standing automakers have had difficulty when it comes to keeping up with Tesla, which has been dominant in shipping over-the-air updates to its customers to make a full transformation from its Autopilot driver assistance system to the collection of its electric vehicles for quite some time now.
Nvidia's Drive system has the ability to keep track of the head and eyes of the driver in order to understand whether or not they are focused on the road, and can even monitor his or her blink frequency to estimate their drowsiness. Contingent on the preferences of the manufacturer, Nvidia states that the system can alarm the driver using audio, visual, or kinaesthetic warnings to bring back their focus to the road. Also, Drive IX can keep watch of the outside environment around the vehicle. If a driver is about the leave their vehicle and is unattentive to a pedestrian beside them, Nvidia states that the system will either warn the driver or simply prevent the door from opening until the stroller has passed.
General Motors was one of the first prominent automakers to bring about an over-the-air system after Tesla. Recently, Ford said that it will begin to include software updates in its 2020 models. Now Daimler (parent company of Mercedes) is following suit.
"By downloading new functions and upgrades from the cloud, we want to continuously bring the system up to date, thereby increasing the value of the vehicle," Daimler CEO Ola Källenius said on Tuesday (June, 23) in a joint statement with Nvidia.
This revelation is coming at the back of the announcement of Daimler and BMW ceasing their automated driving partnership. The two German automotive legends revealed early in 2019 their goal to use $1 billion on a joint mobility effort encompassing autonomous cars, ride-hailing, electric scooters, car-sharing, and electric car charging. However, this week, it was revealed that anything regarding autonomous vehicles will come to a halt.
According to Detroit-based automotive newspaper, Auto News, Daimer states that its partnership with BMW would have meant that Mercedes's use with the technology would have been hindered, though with Nvidia this will not be the same circumstance.
"I think it's no coincidence," said Sam Abuelsamid, principal analyst at Guidehouse, on the timing of the announcement. "I suspect that the two automakers couldn't agree on a platform to use and right now, Orin looks like a much more powerful solution than anything coming from Intel/Mobileye."
Abuelsamid also mentioned that it's indistinct as to how well the Nvidia software stack will perform as opposed to other solutions. "Nvidia is very focused on neural network software," he said, "and most of the industry [is] shifting back to a mix of deterministic and probabilistic (AI) algorithms."
For many years, Nvidia has dealt with the risky exploit to build the technology to power autonomous vehicles with the aim of selling them to big-name automakers, like Daimler. This company certainly wants to be the front-runner to provide the necessary equipment for self-driving cars. For now, we can only hope that this new Mercedes partnership works well this time.
John Sisson Motors
If you love Mercedes-Benz, then you'll love all that John Sisson Motors has to offer. We provide a wide selection of Mercedes vehicles such as the wallet-friendly 2020 Mercedes A-Class to the fast and furious 2020 Mercedes-Benz AMG® GT C Roadster. You name it, John Sisson has it! Simply view our online new car inventory and chat with a representative virtually for further assistance.
Photo Source/Copyright: Mercedes-Benz