Mercedes-Benz Outlines Their New Brand Strategy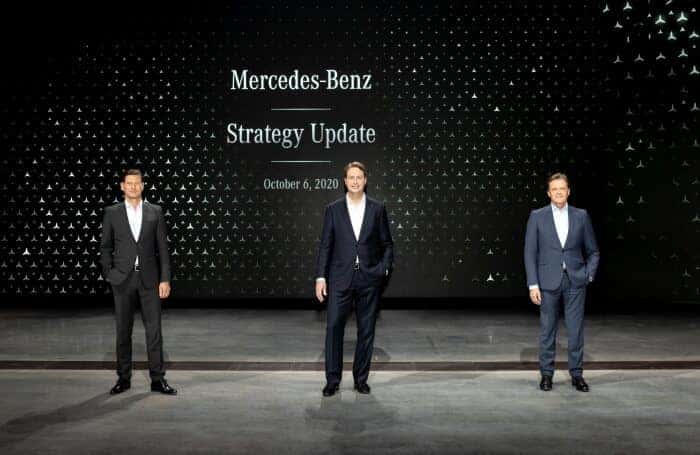 The luxury German automotive brand, Mercedes-Benz, announced last week (October 6) that it has conjured a new strategic course meant to hone in on profitable growth with their upcoming models as well as aim in on leadership for the company's electric drive and car software.
"We intend to build the world's most desirable cars. It's about leveraging our strengths as a luxury brand to grow economic value and enhancing the mix and positioning of our product portfolio. We will unlock the full potential of our unique sub-brands – AMG®, Maybach, G and EQ,"  shares Ola Källenius, Chairman of the Board of Management of Daimler AG and Mercedes Benz AG.
In regards to the new strategy that Mercedes Benz announced, Källenius comments: "With this new strategy we are announcing our clear commitment to the full electrification of our product portfolio and our determination to ensure the business is fully carbon-neutral, in line with our Ambition 2039 target."
The new strategy is an in-depth and extensive program created to move the company forwards on both a technological and financial scale. The six pillars go as follows: 
Think And Act Like A Luxury Brand
This part may seem a bit confusing because the Mercedes-Benz company is already known for being a luxury brand, however, what this strategy entails is a bigger push for luxury in all of their products, interactions with their customers, and digital technologies. The automaker wants a complete revamp of their blueprint, and this includes this product portfolio, brand communications, and sales network which are all intended to provide what the brand is calling a luxury experience that will be "electric, software-driven, and sustainable."
Focus On Profitable Growth
Next, the company will center on making steps in bettering and refashioning its market strategy. This includes focusing on strengthening the balance between volume, price, and channel mix for the purpose of ensuring better contribution margins from current and future portfolios from Mercedes-Benz. The luxury brand will also center its resources and capital on markets that are considered to bring in the most revenue and the segments that it competes in, which will further assert more profitability.
Expand Customer Base By Growing Sub-brands
According to Interbrand, a New York-based marketing agency, Mercedes-Benz currently stands as the most valuable luxury brand on a global scale, and of course, they want to keep it that way. In order to do this, the new strategy is to capitalize on their "extraordinary" sub-brands: AMG®, Maybach, G and EQ, with full intentions to make sure that these models reach their highest potential.
Starting off with the AMG®'s wants to take it up several notches with its plans for high-performance electrification, kicking off by 2021. It also serves as an ally with Formula 1, which will also amplify the following year, in order to further establish itself as a  high-performance sub-brand.
Then, the Mercedes Maybach almost-limousine will also join the electric bandwagon and double in size in order to reach global prospects. The legendary G-Class will also follow suit. 
Finally, with the EQ brand, the automaker will provide its customers with innovative high-tech products that are built on electric architectures.
Embrace Customers And Grow Recurrent Revenues
Besides trying to advance their sales and performance through their revamped lineup, the brand also is committing themselves to cultivate a relationship with customers that can last a lifetime. 
"Mercedes Benz will aim for even stronger loyalty, higher repeat purchases and rapid growth in recurrent revenues – from services and parts and also increasingly from Over-the-Air (OTA) updates and subscription services. The growing number of connected cars provides very significant revenue opportunities in the future, as the Mercedes Benz fleet will reach 20 million fully connected vehicles in total by 2025." said the automaker in a press release.
Lead In Electric Drive And Car Software
It should be clear by now that Mercedes is coming out swinging with its push for electric vehicles. The automaker says that it doesn't want to just make EVs but become the leader in that segment via its "ambitious product development targets and the accelerated introduction of cutting edge technology." As an element of its "Electric First" strategy, the company revealed that they will have four new EVs drew upon its upcoming large-car Electric Vehicle Architecture, otherwise known as EVA. Vehicles that will be involved in this lineup include the highly anticipated EQS sedan, EQS, EQE, EQS SUV, and then the EQE SUV.
By the start of 2025, even more electric models will be added onto the new platform dubbed the Mercedes Benz Modular Architecture (MMA). It's designed for compact and medium-sized cars.
Lower Cost Base And Improve Industrial Footprint
The German-based automaker plans on improving its profitability and cash generation, and on top of this, taking the necessary steps to prepare the future of the company as well as make haste on the transition for the electric lineup, "2020's events have confirmed that the company's break-even point is too high and, with the transformational challenges ahead, further actions will be needed," says the company. "Mercedes Benz will therefore take significant new steps to reduce the cost base and improve the industrial footprint in the period to 2025."
Financial Ambitions
Last but not least, Mercedes-Benz wants to aim for a return on its sales (RoS) level within a mid to high single-digit range by the year 2025, this is even despite adverse marketing conditions. In fact, the automaker wants to succeed with a double-digit margin in a strong market environment.
"The foundation of our new strategy is our highly qualified and motivated team. All of us at Mercedes Benz are determined to deliver on our ambitions. We will build the world's most desirable cars. That's our mission, that's what we want to deliver to our customers. We will make a leap forward in technology. We will invest where we can win, grow more intelligently, and reshape our industrial footprint. As a result, we will be able to improve profitability and lift shareholder value," said Källenius.
John Sisson Motors
All of these exciting plans that Mercedes-Benz has for us luxury car enthusiasts only add to the many reasons why the brand is so lovable. Speaking of the brand, John Sisson Motors is currently selling a wide variety of Mercedes vehicles ranging from the wallet-friendly A-Class to the Fast and Furious S-model. Those who are interested in any of our vehicles can simply view our online new car inventory and chat with a representative for further assistance.
Photo Source/Copyright: Daimler Media