Mercedes-Benz Delivers a TKO To Tesla During Its Fight For EV Domination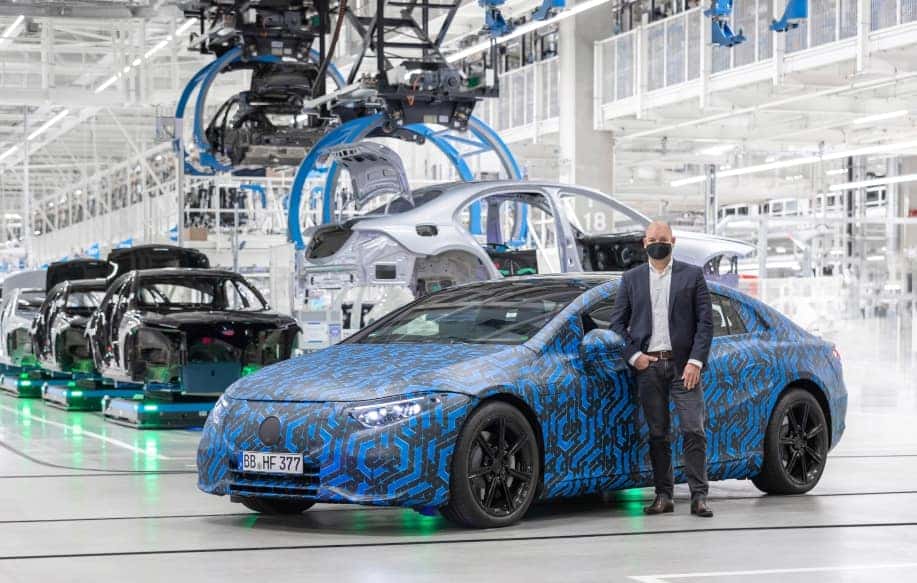 What To Expect For The Upcoming EQ Lineup
Mercedes-Benz isn't one back to down from a bit of friendly competition, especially when wrestling for the top spot for deluxe electric vehicles against Tesla. However, other automotive companies like the Volkswagen Group and ex-partner in crime,  BMW are also rivals worth keeping an eye on, as the two are also competing for the top spot in that posh electric category. One can only wonder if these three power-hungry German automakers can play a successful game of "catch-up" with the California-established car company that began as a small start-up less than two decades ago and is now ranked as the world's most important automotive company.
For now, we'll have to wait and see but this week (Dec,14), Mercedes-Benz revealed the production sites in their home country, as well as North America and China; It is at these locations where a new lineup of EQ-branded electric vehicles will be constructed. Moreover, these cars will be merged in the same factories as the current hybrids, gasoline, and diesel-powered variants. The goal for this car brand is for their full battery EVs to make up for more than half of their total sales by 2030.
First things first, by 2022, the EV lineup will encompass eight EQ models, six in particular will arrive between present-day and 2022. Currently, the Mercedes-Benz EQC is the only EQ model that is on sale. Following this is the compact EQA SUV, which has already started the manufacturing process in Rastatt, Germany. It will also be built in Beijing starting next year after its official launch on January 20, 2021. The EQB subcompact crossover will also lodge itself in Beijing, along with Kecskemet, Hungary at the start of the EQ series upcoming production year. 
The next successor is the EQS sedan, which will enter production during the first half of 2021 in Sindelfingen, Germany. This car will turn out about the same size as the E-Class and will be manufactured in Beijing and Bremen, Germany at some point in 2021. In North America, Mercedes-Benz will prepare its production site in Tuscaloosa, Alabama, and will construct the SUV versions of the EQE and EQS by the start of 2022. Presently, Tuscaloosa is making the GLE and GLS SUVs.
A new battery factory in Alabama is currently being built and will get all of the toolings that will be needed in the upcoming months. The company says that they are on track to becoming carbon neutral, in accordance with their "Ambition2039" plan. In essence, Mercedes-Benz car and van plants should be carbon neutral by early 2022.
"With its 'Electric First' strategy, Mercedes-Benz is consistently on the path to CO2 neutrality and is investing heavily in transformation," said Markus Schafer, Mercedes-Benz board member in charge of research. "Our vehicle portfolio becomes electric and thus also our global production network with vehicle and battery factories."
Looking further into the future, a G-Class EV is set to debut later in the decade, however, we should expect to wait a while for production details to be revealed.
John Sisson Motors
When the time finally comes to purchase any one of these electrified models, be sure to do it at John Sisson Motors, we have a wide range of popular Mercedes-Benz models such as the G-Wagon, the S-Class, the GT Roadster, and so much more! Those who are interested in any of our models can simply view our online new car inventory and chat with a representative for further assistance.
Photo Source/Copyright: Daimler Media
*European Images Show