Mercedes-Benz and Bosch Are Launching An Automated Valet Parking System In Stuttgart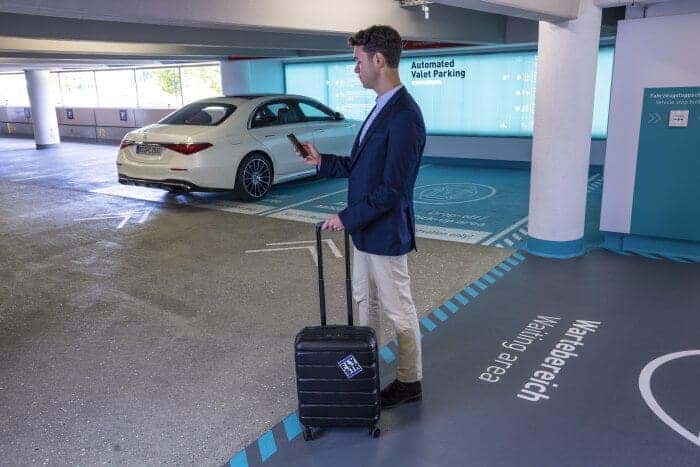 Technology with semi-autonomous functionality brings along a lot of first-rate features. Although most consumers will surely find satisfaction in activities like catching up on their favorite Netflix tv show or a quick power nap during their commute, there are plenty of other features that one would be a fool not to take advantage of.  One highlighting attraction in this segment is all-new automated parking. 
Stuttgart The First To Get Automated Parking
Let's face it, we all dread the inconvenience of having to look through a seemingly endless sea of cars in a multi-story parking garage until finally finding a spot. Now with automated parking,  something a few automakers like Ford and Hyundai are also busy with, are just in the initial stages of testing…besides the dynamic duo of Mercedes-Benz and Bosch of course.
The two innovative businesses have recently announced that they have brought forth the "world's first highly automated driverless SAE Level 4 parking function" to get official approval for commercial use. Mercedes also revealed that parking-garage operator Apcoa is getting the first head start in making use of its automated valet parking system. This service will come into fruition at the Stuttgart Airport's P6 parking garage.
So as to work successfully, there will be a particular area for drop-offs and pick-ups. These areas will be located right behind the entrance of the P6 parking garage. Owners simply need to leave their vehicles as they head towards the airport, the car will then park itself in the basement. The automaker claims that one's car won't entirely be left on its own, as it will be guided by the information it's getting from the infrastructure. 
"Automated valet parking really enhances our passenger's comfort and convenience and saves them time, especially when they're in a hurry and just want to drop their car off quickly at the airport," says Walter Schoefer, management spokesman for Flughafen Stuttgart GmbH.
The Method To The Autonomous Madness
With the assistance of Bosch's video cameras, empty parking spaces can be identified, as well as any obstacles or happenings in the driving aisle. The parking garage has a highly effective control center that determines the best route for these cars to take to an empty spot. Though the spots are in the basement, the cameras provide the cars with an overload of information which makes autonomous driving around the parking garage almost foolproof. Mercedes says that the use of cameras is considered a new method rather than using LiDAR sensors.
"Our intelligent parking garage infrastructure forms the basis for the future of driverless parking," said Hartung.
The vehicle will remain in its assigned spot until its owner returns to the parking garage and activates the car to arrive back in the designated area. Other and less interesting automated events include ticketing and payments.
As great as Bosch's cameras are, they're only one piece of the pie, while the other is the vehicle. To that end, the 2021 Mercedes-Benz S-Class has an available "pre-installation" system dubbed Intelligent Park Pilot. With this package, drivers are equipped with a smartphone command that allows the vehicle to drive itself into a parking space.
The partnership of these companies will allow the pilot program to literally take flight. A specific timeline for the launching of this program is not yet known but the automaker says that the two spaces will be available for the automated valet parking system. Depending on the demand, more spaces should be introduced in due time.
John Sisson Motors
When the 2021 S-Class finally does arrive, be sure to purchase it at John Sisson Motors. We have a wide range of Mercedes models that are suitable for diverse needs and at various prices. 
However, for those who absolutely can't wait for the latest S-Class can also purchase a 2020 version at our store, it rocks a dynamic 4.0-Liter V8 Twin Turbocharged engine that pushes our 463 horsepower with 516 lb-ft of torque and is loaded with advanced tech features. 
Those who are interested in any of our models can simply view our online new car inventory and chat with a representative virtually for further assistance. 
Photo Source/Copyright: Daimler