Mercedes Adds New Tech To Both Its Vito and Marco Polo Camper Vans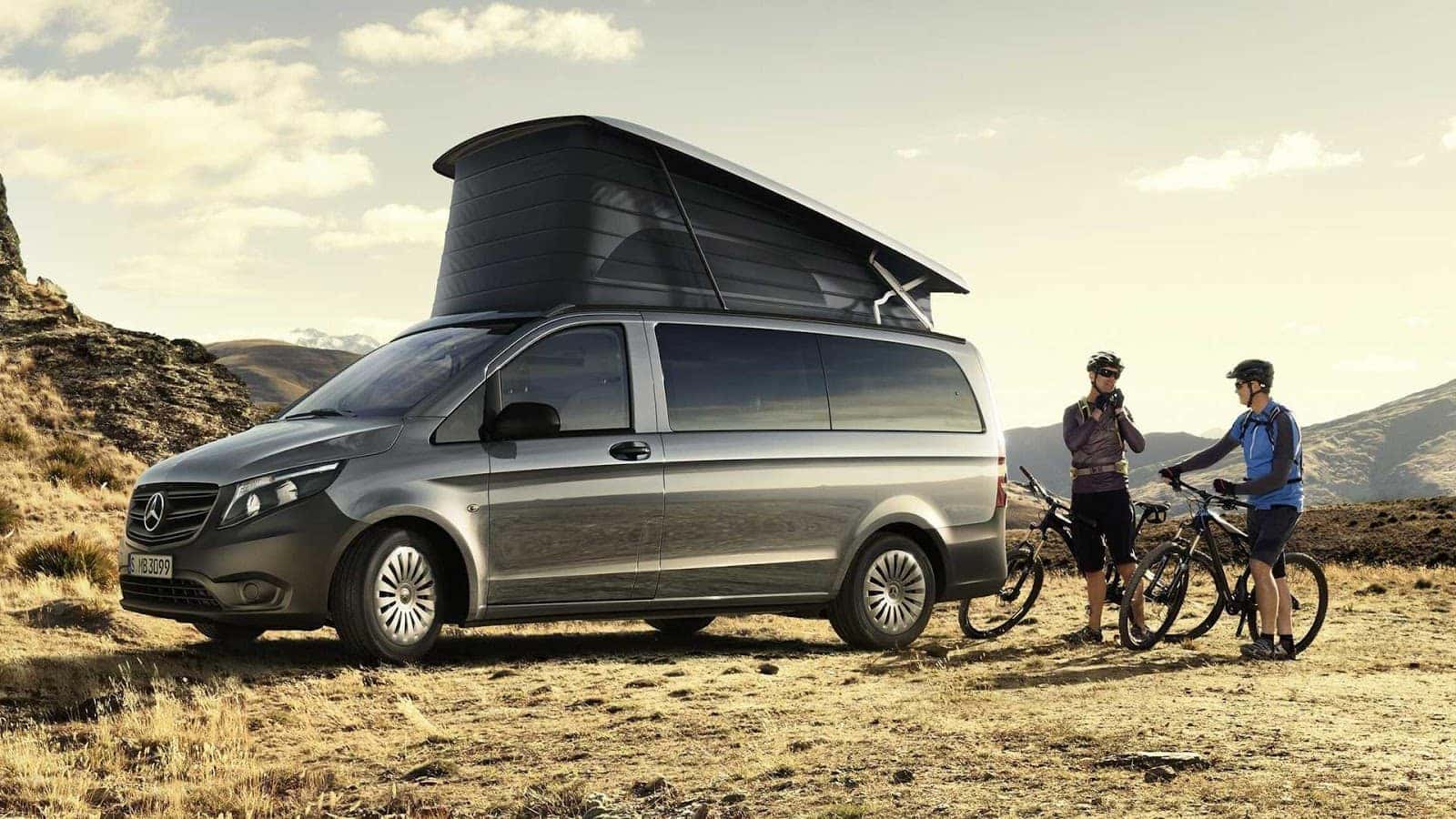 Mercedes sure knows how to squeeze in a little extra publicity. The luxury car company revealed its upgrades to its entry-level Marco Polo Activity camper van just a couple of days before it also announced that its Vito van will receive updates. Most of the updates in The Activity are the same as the van that serves as its foundation, though it fails to take advantage of an important feature, the 260-mile (420-km) all-electric powertrain option. However, it does make up for it by adding new infotainment and driver-assistance options as well as air suspension.
Last year, when Mercedes introduced the V-Class, it also revealed updates to the Marco Polo and Marco Polo Horizon camper vans simultaneously. However, perhaps brought about by the media attention it reveled in with the American-based Metris Weekender, the company divided the announcement for the Vito into separate van and camper van parts.
Woefully, at this current moment, Mercedes isn't offering all-electric and emission-free components to the Activity at this time, therefore, only this feature will only apply to the new Vito. The Vito Tourer passenger van will have a 201 horsepower electric powertrain option, only on this variant. 
On the brighter side of things, the Activity does merit from the available 236-horsepower 2.0-liter OM 654 diesel four-cylinder that has also recently been offered on the Vito. Other options that have been included are the base-level 101-horsepower OM 622 diesel four with six-speed manual transmission and front-wheel drive.  The other is the OM 654 available in multiple tunes between 134 and 236 horsepower and comes standard with a 9G-Tronic automatic transmission and rear-wheel drive, though the all-wheel drive is an option.
Starting this October, a new addition that shoppers may find to be the most useful in the Marco Polo lineup is the Airmactic air suspension system with adjustable damping available on the van. It is made to enhance comfortability on both highways and rough roads, the Airmatic will undoubtedly show itself to be of great value as it is utilized on lots on long trips and different types of terrain. Additionally, different driving modes are included, as the system can raise the ride height by 1.4 in (35 mm) and lower it by 10 mm.
Safety matters too! New and improved driver-assist features include active brake assist and Distronic active distance which aids in electronic driving assistance. The active brake provides visual and audible warnings of an incoming collision, after this, automatic brakes and maneuvers will activate in the possibility that the driver does not react. The Distronic system aids in managing the proper distance and automatically adjusts speed, also braking if necessary.
Other considerable additions include digital radio, 7-in touchscreen infotainment options with Apple CarPlay and Android Auto, and a digital rear-view mirror, which are set to be available in October.
The Marco Polo Activity is the introductory sleeper van in the Marco Polo lineup. It has a self-opening sleep roof and convertible rear three-seat bench/bed. Floor rails increase configuration and have an adjustable folding dining table segment in position, making way for buyers to select from 5- and 7-seat arrangements. The Marco Polo Horizon has a sleeper-style layout that is similar inside a more lavish V-Class, all the while, the Activity brings on a full-on camper van layout with a kitchen.
John Sisson Motors
The Mercedes camper vans will certainly provide for the perfect getaway for you and the whole family. Unfortunately, John Sission Motors currently does not have the Vito vans in stock but we do have similar types of models such as the Mercedes Sprinter and the Mercedes Metris. Both vans are filled with cutting-edge design and features, and provides all of the basic necessities that a family needs.
If you are interested in any of our Mercedes models, take a look at our website and browse through the inventory. If you find something you like, chat with an online representative for more information.
Photo Source/Copyright: Motor 1
*European Images Shown