Here Are The Details On The All-New 2022 Mercedes EQA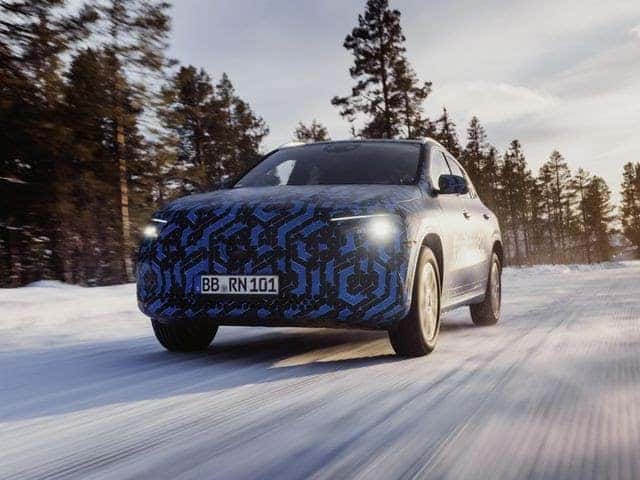 The 2022 Mercedes EQA is here…okay, not really, but it's coming! The new Mercedes-Benz model is all-electric and will be a similar size and shape like that of the GLA-class crossover. It's part of Mercedes-Benz EQ secondary-brand that puts the spotlight on electric vehicles and is expected to go into production towards the end of this year.
So far, Mercedes has released some photos of the prototype and although the vehicle is all bundled up, it's still possible to get an idea about the overall shape and figure of the new model. More details are expected to be released later this year but here are some cool facts that we know so far!
What's Changed?
The new EQA will slot below the larger EQC electric crossover and is expected to go on sales in the U.S. at some point in 2021 as a 2022 model.
Price Estimates and Warranty
Mercedes hasn't made it clear how many trim levels will be available but will it likely parallel those of the larger EQC. The price points have remained a secret as well but it's been estimated that its base models could start around $50,000 (plus destination fee) could up to $60,000, (plus destination fee) for higher trims.
Warranty will likely be pretty similar to the EC and other Mercedes models like Limited (4 years or 50,000 miles), Powertrain (4 years or 50,000 miles), and Hybrid (8 years or 100,000 miles).
Engine and Performance
Mechanical details remain hush-hush but since the EQA is base on the same platform as the GLA, its quite likely to have a front-mounted electric motor and a probable second-rear mounted motor that provides an all-wheel drive. The larger EQC SUV gives an outturn of 402 horsepower but the EQA may be less powerful because of its smaller size. 
EQA Range and Battery Pack
Mercedes is helping to set the trend of eliminating the need for gas with its all-electric motor. The EQA will make use of a battery pack secured under the floor of the SUV. It's possible that Mercedes will aim at a particular range of over 200 miles on just one change, which would allow it to compete with comparably-priced -rivals or opponents- like the Tesla Model 3 sedan and Model Y SUV. The overall range number will be determined by the (currently unknown) size of the battery pack.
Comfort and Convience
The interior will probably be arranged in a similar fashion to that of the GLA, which means 5 seats and an ample amount of cargo space. Since its an electric vehicle, the EQA could possibly have displays and gauges that are EV-specific. Like the GLA and really all Mercedes models, the design will certainly be nothing sort of exquisite with some Vogue-like elements. It's also possible that space for cargo or rear-seat passengers may decrease only slightly owing to the packaging of the battery.
Stay Connect
No matter how striking the visual elements are Mercedes is nothing without its always up-to-date and advanced features, particularly with the MBUX infotainment system. This MBUX will provide a touchscreen, voice command, and steering-wheel controls for its audio, navigation, and other functions. Shoppers should expect that navigation will be offered to them, this way drivers can easily navigate their way to EV charging stations.
In addition to infotainment, it's expected that the EQA will offer a whole assortment of driver-assistance features both standard and optional. It will likely include features like standard automated emergency braking with pedestrian detection, lane-departure warning with lane-keeping assist and adaptive cruise control with semi-autonomous driving mode.
John Sisson Motors
Even though we'll have to wait a bit on the release of the new EQA,  John Sisson Motors has a plethora of models that perfect for different consumers with individual needs and wants. Shoppers have the option of purchasing either a new or pre-owned vehicles. Visit our dealership site to view the Mercedes-Benz inventory and speak with an online representative for more information.
Photo Source/Copyright: Car and Driver
*European Images Shown