Dimitris Psillakis Is Making Headway For Mercedes-Benz EV Future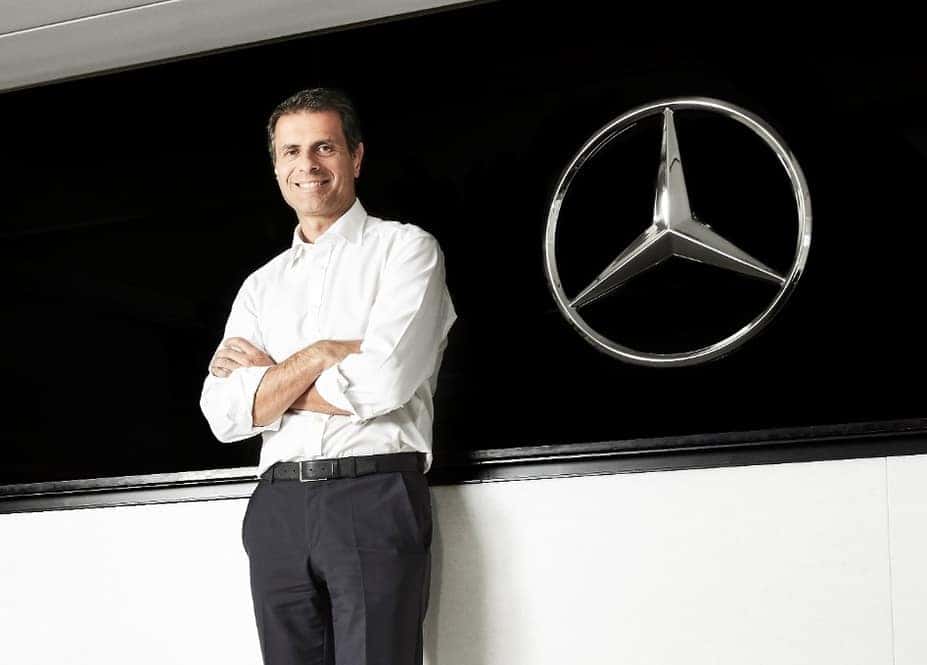 Last year, we introduced Dimitris Psillakis as the new kid on the block, or as Mercedes-Benz would call him, Head of Marketing and Sales for North America and CEO of MBUSA. While it hasn't been too long since his transition, the new chief is making moves by helping to boost developments for the brand and working with dealers across the country, particularly for the EQS sedan.
The EQS flagship is certainly what Mercedes-Benz is counting on to help kick start the complete revamp of their platform and the first to help the company build a lineup that is aligned solely for electrified vehicles. It is also the first all-electric model from the automaker's EQ sub-brand to be offered in the North American market and just perhaps the tool that they can use to really stick it to Tesla.
Psillakis first took charge this year (2021) in January, and now it's his responsibility to maximize the EQS, along with other EQ vehicles on the lineup, squeezing out every last ounce of their potential for the brand, as well a its dealerships in the United States and Canada, in which there are over 400 of them. Additionally, Psillakis is the overseer of over 1,600 MBUSA employees, with the majority of them located at the automaker's new headquarters in Atlanta. After aiding in the increase of Mercedes-Benz's sales and performance in markets worldwide, Psillakis's most recent role has been the president of the manufacturer's Canadian operations.
"We have a very strong brand and a brand with a long history in the U.S.," Psillakis told me. "There's a big network of dealers around the country who are very eager to receive the electric Mercedes-Benz. We say, 'Now electric has its Mercedes,' because so far the options for EVs — especially on the top end of the market — have been very limited. We have a competitive proposal for the market and a desirable product."
A large part of Psillakis's daily tasks is coordinating with Mercedes's North American dealers to in cultivating the launch and getting ready to sell and service a slew of other new vehicles on the EQ platform over the next few years, which will also involve some that will be constructed at the automaker's plant in Tuscaloosa, Alabama.
"We're preparing them mentally, and with skills, in terms of sales consultants and customer-facing functions as well as the right skills on the technology side to maintain and support these vehicles," Psillakis said. "We're also working with them on their infrastructure, including the necessary charging stations, display areas and whatever we do from a marketing point of view."
This year already marked a transitioning period for Mercedes-Benz dealers because of the effect of the COVID-19 pandemic and the disruptions that it resulted on the company, particularly having to do with the delay of conventional automotive retail happenings, forcing the company to expand its online relationships between both its dealers and customers.
"We're dealing with a premium brand, and a premium brand means a premium brand experience," Psillakis said. "We want to be able to offer it physically, so customers can check vehicles and do negotiations and receive products. But also we have customers who are scared by the pandemic or are busy or prefer to be totally online, and they can do everything through our online sales channel."
Seeing that the luxury car maker's large installed base of gasoline-powered cars in the States, Psillakis said that Mercedes-Benz and its dealers are also keeping in mind that they need to persist with service that with that base even in the wake of the electrified bandwagon seemingly taking gettings its grips on the American market.
"We're bullish about the EV option coming in, but at the same time we're continuing to support all Mercedes-Benz internal-combustion engines and vehicles," he said. "As EVs go to five, seven, 10 percent, we'll still be there for our full range of vehicles."
John Sisson Mercedes
Just like Dimitris Psillakis, any car from Mercedes-Benz provides a top-notch performance! John Sisson Motors is selling a plethora of models from the automaker that range in various shapes and prices. Those who are interested in any of these models can simply view an online new car inventory and chat with a representative for further assistance.
Photo Source/Copyright: Mercedes-Benz Media Newsroom USA