Daimler and Visa Work Together To Improve The In-Car Digital Commerce Experience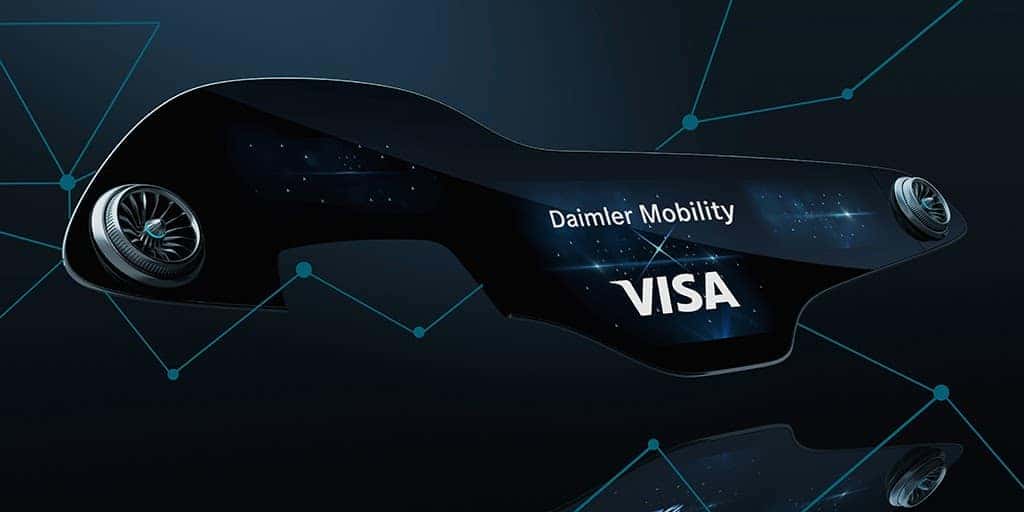 Daimler Mobility and Visa are teaming up to create a new global technology venture, with the Daimler car company offering "native" in-car payments. No longer will we have to deal with the inconvenience of entering passcodes or using mobile devices for payment authentication, as that will be replaced with a vehicle's internal payment system, derived from Visa's Delegated Authentication technology.
Starting from spring of next year and beyond, Mercedes buyer's living in the UK and Germany will have the ability to make payments by using the car's fingerprint sensor, with other European markets set to follow suit. These purchases can be made right through the car's main unit, or MBUX (Mercedes-Benz User Experience). The solution is slated to be made available in other markets worldwide at a later date.
Indeed, in-car purchases have become a valuable, if not, one of the most important aspects of luxury vehicles. For instance, Daimler Mobility's global payment platform title Mercedes pay allows customers to purchase goods and services in the comfort of their own car, and this includes Mercedes me services, along with other purchases like fueling and parking.
"We are excited to bring to life a native solution for in-car payments for the first time, together with our partner Daimler Mobility. It is significant that both the successful pilot testing and initial launch activities are taking place in Europe, a world-leading hub for payments and automotive innovation. This is a powerful example of how the world's leader in digital payments and the inventor of the automobile are able to combine their technologies to create the next generation of smart solutions for the automobility sector, providing the driver and passengers with a completely new in-car connected commerce experience." said Antony Cahill, Deputy CEO and Head of European Markets, at Visa in Europe
Franz Reiner, Chief Executive Officer, Daimler Mobility, also commented "Mercedes pay is our competence centre for in-car payment, through which we offer our customers worldwide digital services seamlessly integrated within the Mercedes-Benz ecosystem. In partnership with Visa, Daimler aims to offer native in-car payments that meet the requirements of two-factor authentication in a secure and user-friendly way. There is nothing more convenient than authorizing a payment with your fingerprint. A luxury customer experience of course includes the aspect of safety, and we fulfil that through native in-car payment. We offer our customers security not only when driving, but also when paying."
Mercedes pay is a segment of Daimler's mobility and digitalization scheme, and a segment of Daimler Mobility. The German multinational automaker will be the world's first car company to integrate the Visa Cloud Token Framework into its vehicles. The financial services Cloud Token Framework is a cloud-derived security system that makes way more flexibility throughout multiple devices as Visa Cloud Tokens protect and clear sensitive payment information by converting data and storing it securely. 
They also allow multiple devices to be paired in and even beyond the vehicle, which is then directly integrated into the bank credentials of the buyer. This considerably betters the overall payment experience, since consumers won't have to worry about entering their card numbers or switching between devices in order to authorize a payment. This problem will be solved by setting up two-factor authentication,
In just two years, several connected vehicles are estimated to surge more than 352 million worldwide and the total volume of in-car payments is on track to reach about $86 billion by 2025
Automotive trends like electric vehicles, car sharing, autonomous driving, and connected cars are only increasing demand for the groundbreaking in-car payment methods. Nowadays, when one purchases car-related services, many systems necessitate that the driver uses a separate device to log in either via app or website. Daimler and Visa's aim is to make for a stress-free payment system in their car, while also further developing the choice and overall quality of the user experiences. 
John Sisson Mercedes
See for yourself all that Mercedes-Benz has to offer at John Sisson Motors. We carry an extensive range of vehicles from the prestigious car brand, from sedans, coupes, convertibles, SUVs, and more. It doesn't matter what type of car you buy, because each cabin has a killer design layout and top-notch technologies, bound to only improve with this new collaboration.
Those who are interested in any of our vehicles can simply view our online new car inventory and chat with a representative for further assistance.
Photo Source/Copyright: Daimler Media