America's Long Lost Love – The Mercedes C111-II Concept Turns 50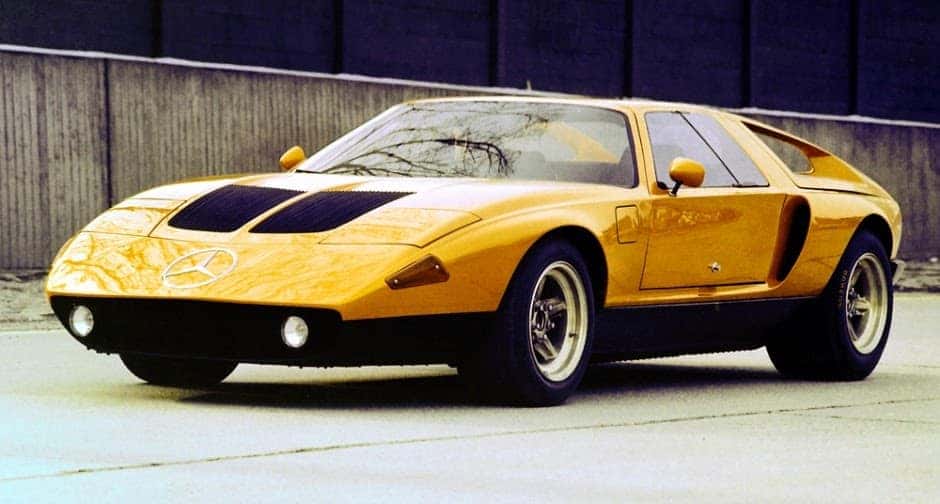 Wow, does time move fast! It's been 50 years since Mercedes-Benz blew our minds at the highlight of an automaker's year, the Geneva Motor Show, in 1970 to be exact. The company showed off the C111-II concept as an orange painted experimental powerhouse with wings, fiberglass-panels, and a four-rotary powered mid-engine. It also made a debut at the 1969 Frankfurt show with the classic three-rotor.
This Mercedes 1970's concept was truly dynamic and ahead of its time, so it's hard to understand as to why Mercedes never manifest this vision into a reality. Unfortunately, tragedy can have a way of affecting the outlook of a situation. After the 1955 Le Mans disaster in which a major crash involving a Mercedes-Benz 300 SLR and an Austin-Healey causing large fragments of debris to fly into the crowd, killing 84 nearby onlookers and injuring 180, as well as French driver Pierre Bouillin. Needless to say, that this event completely curdled the idea of any type of any Mercedes sports-like cars for a while, so much so that the company even turned down blank checks from potential buyers. 
Some might say that that the discontinued Clll-II was a tragedy itself because had it come into fruition it would have been added with a forth rotor, therefore bringing up its 276 horsepower to a whopping 345 and pushing 60 mpg in less than 5 seconds. Additionally, it's quite likely that this vehicle could have been quite a phenomenon in that time period (as if it wasn't obvious enough from the blank checks being sent to Mercedes Headquarters) as it was being marketed as a "small affordable sports car" since automakers knew that Baby Boomers lusted after fast but economically-friendly cars.
As previously stated, the orange Mercedes concept was truly ahead of its time, as it was the first car to ever be designed entirely on a computer, and according to the company, engineers could predict effective loads by use of computer and as a result, the entire project was sped up by four months. One more strange fact is that Mercedes produced a movie dubbed Das Auto, das aus dem Computer kam, that pretty much translates to "The Car from the Computer."
As a whole, a total of just 16 C111s were made and most were C111-II models. There were two C111-IIIs made and were diesel-powered. There was also one C-111 IV with a twin-turbo 4.8-liter V-8 that got up to 251 mph, though few people know about it.
Who knows, maybe Mercedes will finally have a change of heart and consider doing a reboot of sorts for 2020 but until that happens, Mercedes still has some impressive luxury sports or sporty-like vehicles that you might be interested in. John Sisson Motors is currently selling its top-gun vehicle, the 2020 Mercedes-Benz GT AMG® C Roadster at 550 horsepower with 502 lb-ft of torque. However, for those who are more budget-conscious might be more interested in our 2020 Mercedes-Benz C AMG® 63 Cabriolet, as it has 503 horsepower with 516 lb-ft of torque. Once you find something that gets your engine going, feel free to speak with an online representative for further assistance.
Photo Source/Copyright: Classic Driver