A 1975 Mercedes Maybach Limousine Proves That It Still Got It!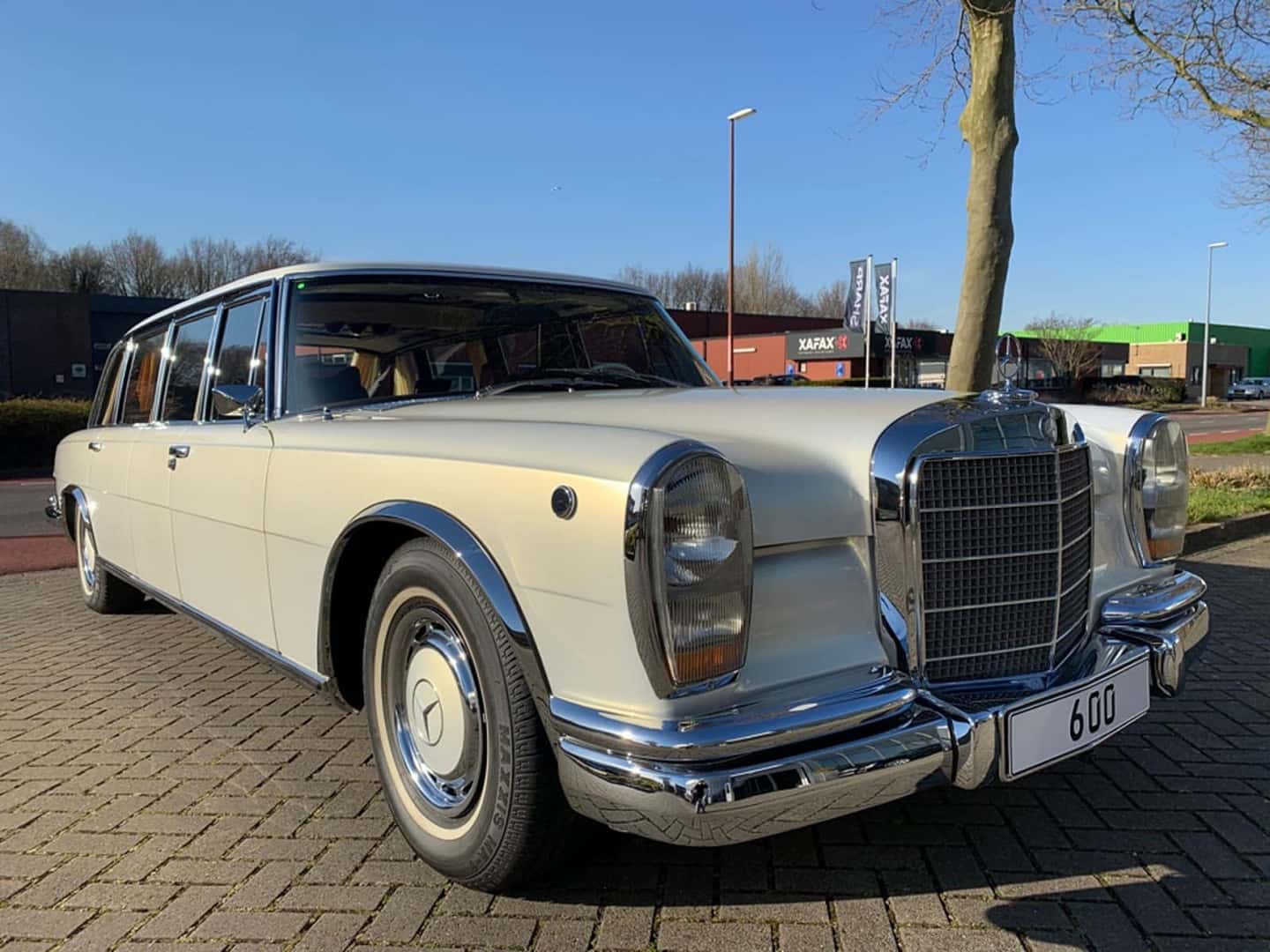 A Facelift For This Vintage Mercedes Limousine
An incredibly rare 1975 Mercedes-Benz 600 Pullman Maybach W100 has been restored to its former glory after seven years of renovation and is now on sale for $2.15 million, and based on the looks of it, the purchase of this vehicle will certainly be mainly well spent!
This high-class car certainly has some celebrity status, as it was known for being apart of the ultra-luxury Mercedes lineup manufactured from 1963 to 1981. Generally, long-wheelbase and Pullman variants were meant for chauffeur stewardship. The iconic car seemed to be the limousine of choice for iconic celebrities and tycoons such as Coco Chanel, Davie Bowie, Hugh Hefner, Elizabeth Taylor, Elvis Presley, Jack Nicholson, and many other greats. Political leaders and some members of royalty were also seen "driving" this classic cruiser.
The process of restoration for this vintage luxury model started in 2007 and was completed in 2014. The project was administered by Mercedes-Benz Classic and Daimler AG, whose objective was to maintain the exterior characteristics of the vehicle that gave it its timeless aura. 
A vast amount of parts for the 1975 Mercedes limousine were ordered from the company's posh Maybach brand, more particularly so that there was an assurance that the vehicle could genuinely and accurately keep its original style. However, rather than purchasing a more updated engine or mechanical components, the original gearbox and 6.3-liter V8 engine of 1975 was restored instead, which is incredible, since this old man hasn't seen the old town road in 45 years.
The car is currently being sold by Auto Leitner, a dealership based in the Neverlands, for €2.15 million, around $2.33 million, not including value-added tax. 
A Virtual Tour of Everything That The 1975 Maybach Has In Store
In spite of the determined honoring of retaining the original style of the car, there are quite a few advancements that were added in the interior, such being electrical configurable seats, as well as a heater and air conditioning unit.
Just like most cars of today, one can find front and rear cameras, reading lights, heated and cooled seats. In any case, these new technological advancements don't eliminate the inclusion of standard conveniences that might have been more common in the Pullman's prime. Cool vintage amenities include a refrigerator with a minibar and swanky champagne glasses for passengers. It also has been upgraded with a TV screen and surround sound systems.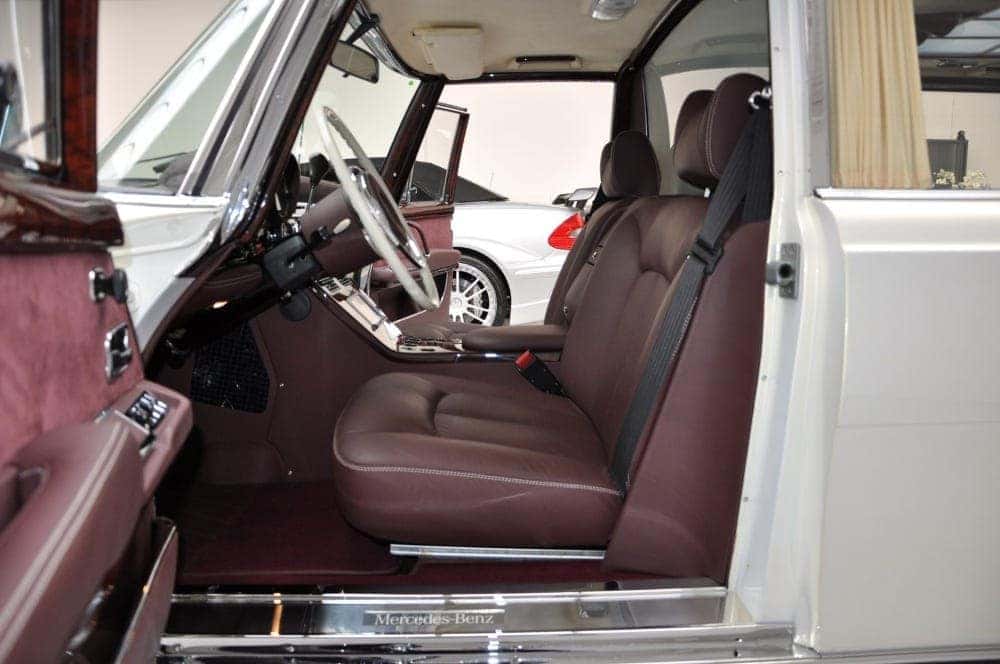 As one might expect in most limousines, the barrier, made of glass no less, separates the front "chauffeurs" row with that of the two passenger rows. Interestingly enough, passengers sitting in these two rows will have a bit more interaction with everyone, as the first passenger is racing the second. A fold-out table also sits between both passenger rows.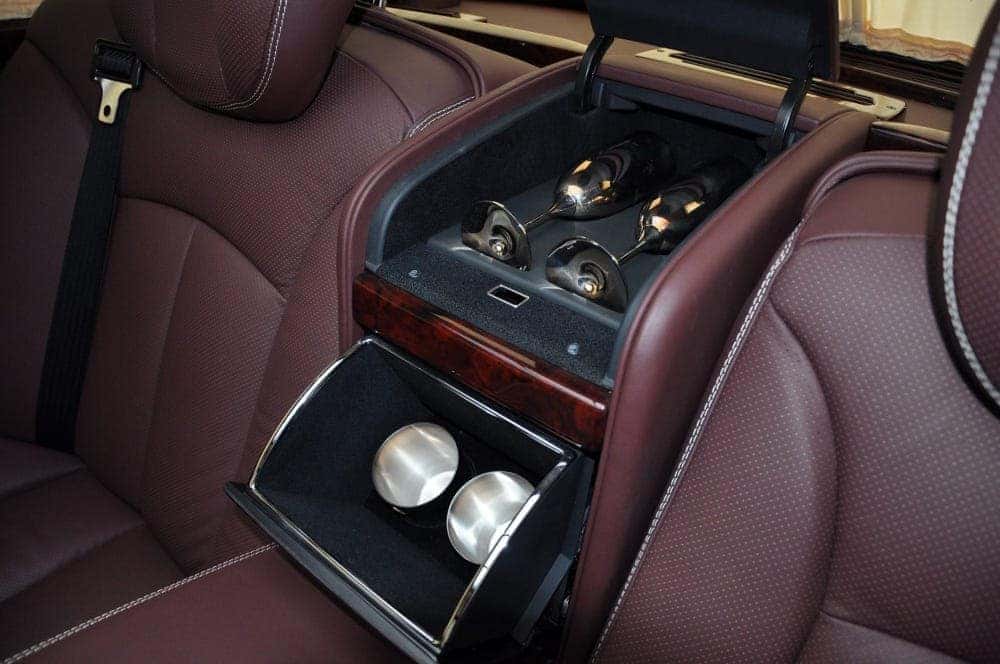 Remaining true to high-society fashion, Swarovski diamonds are also embedded into the ceiling of the 1975 Maybach. The decked-out vehicle also includes a dimmed glass panoramic roof.
All in all, the over revival process of the 1975's Pullman added up to a near €3 million, around $3.26 million. The buyer will also be afforded with its maintenance and instruction manual books as well as five of its original keys.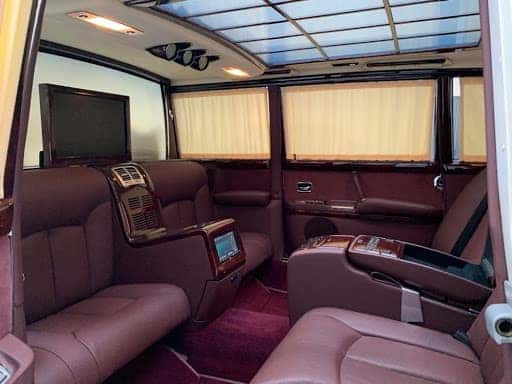 John Sisson Motors
You don't have to be Elizabeth Taylor to drive in style, John Sisson Motors has a wide variety of luxury models such as the sporty 2020 GT C AMG® Roadster or the sophisticated CLS 53 4MATIC® Coupe. You name it, John Sisson has it! Check out our swanky online car inventory and chat with an online representative for more assistance.
Photo Source/Copyright: Business Insider