5 Reasons to Buy The 2020 Mercedes-Benz Sprinter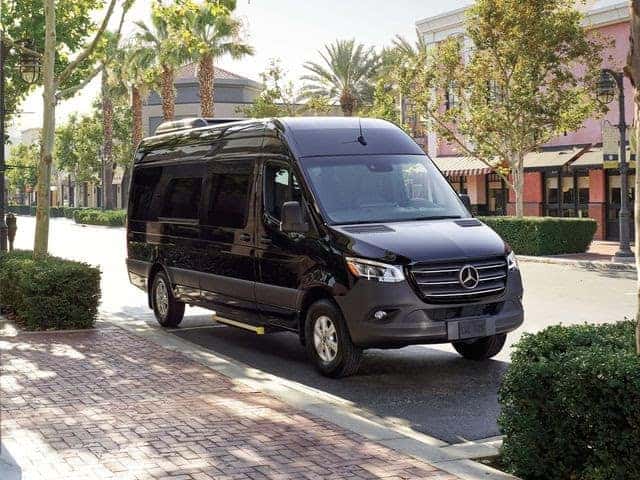 The 2020 Mercedes-Benz Sprinter is no ordinary fleet vehicle. It has advanced safety features, an upscale look on the exterior and interior, and has plenty of space for both cargo and passengers. It may also be ideal for those with families that are larger than the national average. Here are 5 Reasons Business Owners and Car Shoppers Should Buy The 2020 Mercedes-Benz Sprinter!
1. Plenty of Cargo Space
Of course, the main reason to even buy a Sprinter is the sheer amount of cargo space. You can load pretty much anything and still carry passengers. Ideally, one can drive a Sprinter with a 144-inch wheelbase and hold as much as 261.3 cubic feet of cargo. A person who is as tall as 6 feet can still stand comfortably in the back.
2. Easy to Drive
Vans usually get a bad rap for its less-than-stellar driving experience, as these types of vehicles are known for having a big and bulky kind of build and often require extra patience when trying to maneuver and steer it throughout the day.
This is experience is contrary to that of the Mercedes Sprinter. It's not an unpleasant experience like most vans, its driving dynamics are very particular and reliable, an effortless handle, and can also be quite fun! Drivers will get a kick out of the Sprinter's electronic steering system, it has an unexpectedly sporty feel to it than typical commercial vehicles and its more graceful, even when driving on a curve. Additionally, Sprinters often have a great tight turning radius, which makes this 2020 Benz van more than ideal for driving into awkward spots.
The Mercedes Sprinters have two engine options that are available for all cargo, crew, and passenger vans. Each model comes with a standard turbocharged 2.0-liter four-cylinder engine that powers-up the 2020 Benz with 188 horsepower and has a nine-speed automatic transmission.
Although the Sprinter doesn't necessarily have a need for speed its high-torque engine provides efficient pulling power and acceleration that is very dominant. This van doesn't have a problem with towing, as it can pull up to 7,500 pounds of a load. The second engine option includes a four-wheel drive with a seven-speed automatic transmission from the diesel modes.
3. Upscale Interior and Accessories
The 2020 Mercedes Sprinter is highly sought after by drivers for two reasons, comfort and class. The interior provides a very quiet ride and has an upscale look and feel. The seats are shaped in a way that discourages unnatural sitting positions, therefore preventing that back-breaking feeling after hours behind the wheel. Also, with the Swivel Seat package, getting out of the van is a breeze.
As far as cargo space, there are massive amounts. Cargo Sprinters offer 523.6 cubic feet of space. Passenger Sprinters can seat 12 people and has a 144-inch wheelbase; 170-inch wheelbase versions can seat 15 people. The Crew Sprinter also has a variety of workbenches, shelving and other parts that can easily turn the truck into a workshop on wheels.
Moreover, the Mercedes Sprinter has a layout that is very simple and readable gauges. All of the main controls are well within reach, especially the mounted controls on the steering wheel which allows drivers to handle several functions without becoming side-tracked while on the road. At the same time, one can adjust the climate system, it takes only a few seconds and its easy to use.
4. Advanced-Tech Features
Although advanced tech features may not be the main priority for workers, it's still nice to have. Standard infotainment features include a standard AM/FM radio with a small LCD screen, Bluetooth®, and a single USB-C port. For $1240, one can get an updated system with a 7.0-inch touchscreen from the Premium package. For $2530, shoppers can get the 10.25-inch screen, navigation, and a wireless phone-charging pad from the Premium Plus package.
Drivers will also appreciate the advanced safety features in the 2020 Sprinter, like active-braking assist, blind-spot assist, and active lane-keeping assist.
5. Attractive Exterior
From a visual aspect, the 2020 Mercedes-Benz Sprinter is a bit more sophisticated and has a much more refined styling than the average commercial van, which is certainly a plus for business owners who are trying to attract more clientele. The vehicle's large grille is quite an eye-catcher. The Xenon headlights and 16-inch alloy wheels magnify the Sprinters exclusive and posh look.
"Going Coastal"
The Mercedes Sprinter doesn't have to be exclusive just to delivery drivers. Those with large families can benefit from driving the Mercedes Passenger Sprinter, as it can fill up a lot of seats. It also gives shoppers the ability to make this 2020 vehicle their own, like Erick Ekman whose company Outside Van converts vans into a literal "Home on Wheels".
One of Outside Van's creations is the recent "Going Coastal" design that was specifically created for a couple who wanted to travel to their son's college soccer games while still having their own living and sleeping space. It has plenty of different seating and sleeping arrangements, as well as an outside shower. Check out our companion article "The Mercedes-Benz Sprinter Is "Going Coastal" to learn more.
John Sisson Motors
Whether you are a business owner who needs cargo vans for in order to deliver products or a regular citizen with a large family that needs a lot of space, the 2020 Mercedes-Benz Sprinter is an efficient, reliable, and stylish vehicle that is perfect for your needs.
John Sisson Motors has plenty of different Sprinters that are up to date and affordable. Prices typically range roughly from $46,000, (plus destination fee) to $50,000, (plus destination fee). Visit our dealership site in order to check out our inventory and speak with an online representative for assistance.
Photo Source/Copyright: Car and Driver