2023 Mercedes-Benz Celebrates Its Birthday With Its G 63 "Edition 55"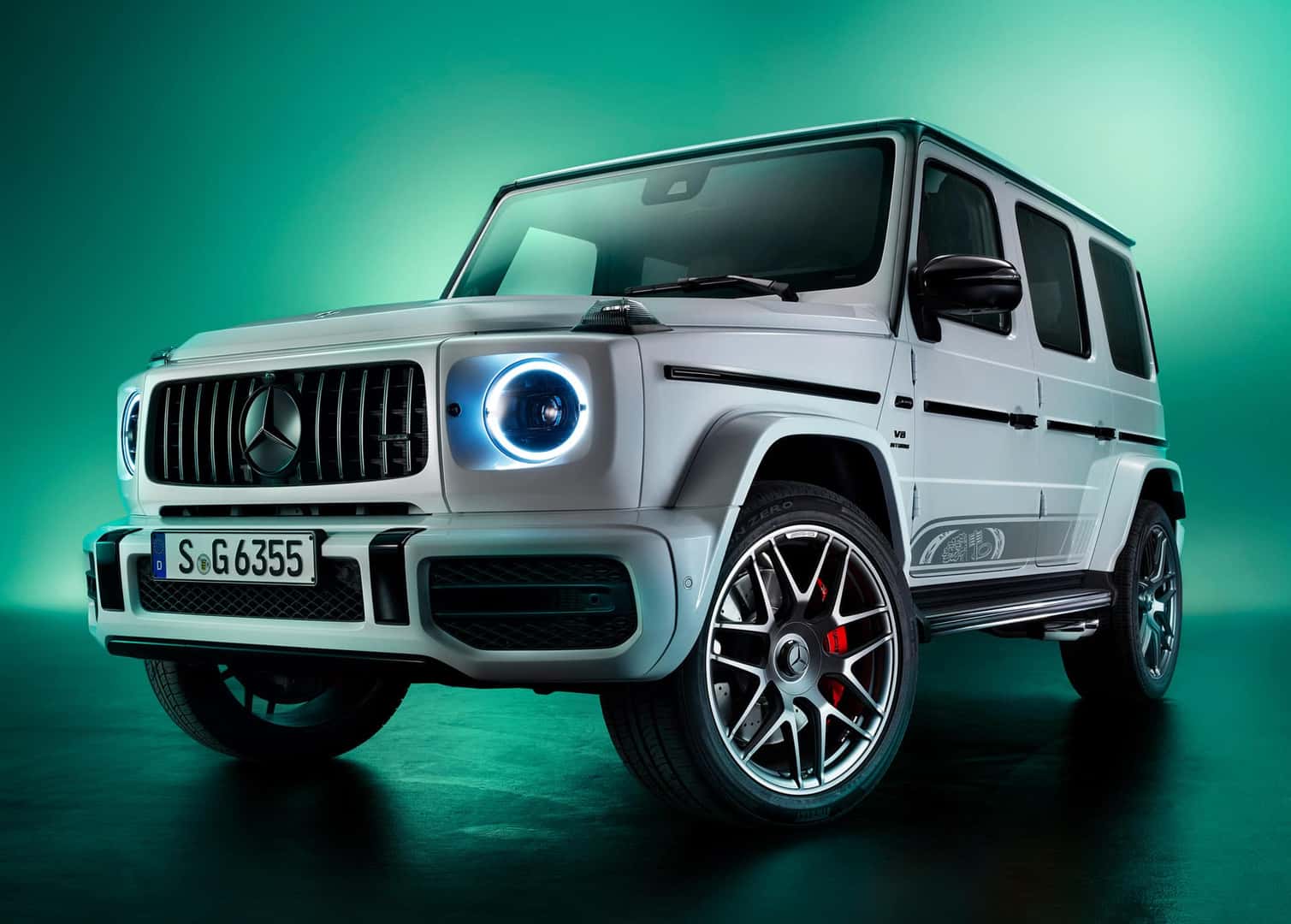 The G 63 "Edition 55"
Mercedes-AMG® is going into overdrive for 55, more specifically its celebrating its birthday by constructing a special edition of one of its best performance vehicles, the G 63.
This special wagon, named Edition 55, represents 55 years of AMG® "making slow stuff fast", which has produced some of the best super saloons and sports cars ever introduced on the car market, along with a few SUVs.
There are only available exterior finishes: Obsidian Black Metallic and G Manufaktur Opaline White Bright. While they aren't the boldest choices, especially for a special edition model, they are helpful in bringing out the details from the AMG® Night Packages I and II. These packages include high-gloss black trim on the grille, turn signals, headlights, and taillights. The truck also comes with a chrome gas filler cap with an AMG® badge and 22-inch forged wheels, which ties in the look, overall.
Inhouse, the Edition 55 is undoubtedly shameless with bright red touches covering everywhere. The two-tone red and black Nappa leather seats are simply enchanting, along with the stainless steel door trim with red lettering, black floor mats with red "Edition 55" lettering, a microfiber wrapped steering wheel and minimal use of carbon trim pieces.
These changes are primarily focused on aesthetics, as the vehicle still has its twin-turbo 4.0-liter V8, producing an incredible output of 577 hp and 627 lb-ft of torque. Its all-wheel-drive (AWD) system allows power to be distributed 40/60 to the front/rear wheels. Of course, you also have your typical in-car features like Wi-FI, dual 10-inch touchscreens, multiple USB ports, and Apple CarPlay/Android Auto, along with automated emergency braking, lane-keeping assist, and adaptive cruise control.
The U.S. Gets 55 Units
There's a reason why this G 63 model is considered a special edition, as only 55 units will be sold on North American shores. In Europe, the Edition 55 package amounts to €17,850 ($19,719 for current rates) for the cost of a G 63. In the States, the G 63 has a starting price of $156,450, (plus destination fee). The automaker has not yet revealed its official starting price, but we're expecting an announcement for that information as we draw near the launch date later this year. Regardless, lucky buyers should expect to pay close to $15,000 to $20,000 for the package.
The 2023 G 63 Edition 55 pickup is the first of what may be a series of Edition 55" branded vehicles from Mercedes-AMG®, starting from 1967 as a tuning house mainly for Mercedes-Benz models. The first AMG® version of the G-Class was introduced in 1999, with the performance reaching ultimate control and firmness in 2005 and remaining that way.
John Sisson Mercedes
If you're you're interested in any Mercedes-Benz model, take a look at our dealership website, John Sisson Motors. We carry a wide range of vehicles from the brand ranging in various different shapes and sizes. Those who are interested in any of our models can simply view our online new car inventory and chat with a representative for further assistance.
Photo Source/Copyright: Mercedes-Benz Group Media