2022 Mercedes-Benz EQS Will Sport A Tech-Savvy Grille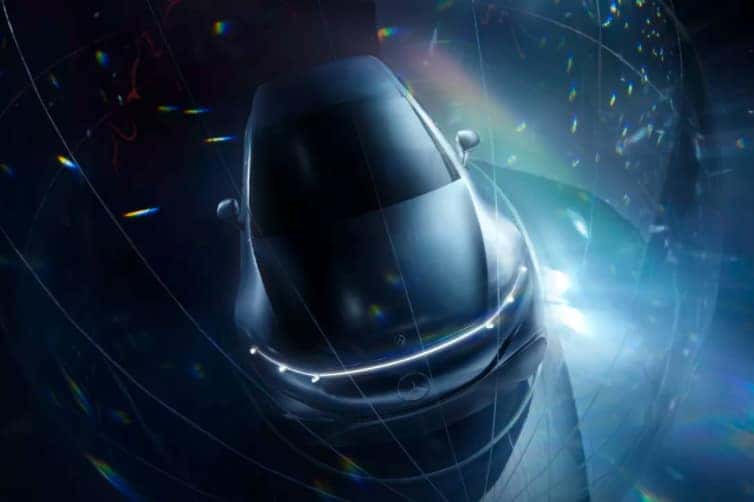 EQS Digital Grille
It doesn't seem that long ago when automobile powerhouse, Mercedes-Benz released a teaser of its upcoming electrified EQS sedan, and that's probably because it hasn't been, as the German luxury car company revealed more production details last Monday (December 14). It appears that the automaker is even more anxious these days to get people excited about the vehicle, another EQS teaser was released that past Friday (Dec, 18). The photo teaser (above) shows the production model of the car without its usual guise that we usually see in spy shots.
The featured EQS photo allows one to have a birds-eye view of the electric sedan, however, the exact details are somewhat foggy and even a bit obscured, but it still provides an idea of what to look forward to. What's most significant about the concept is that the EQS won't even have an actual grille but instead will feature a digital one. Clearly, Mercedes-Benz wants to create distinctions between their EQ models and gasoline-powered vehicles, going far past the mechanics but in a way that almost looks like it's from another brand. Of course, the company makes its presence known with its smooth and subtle three-pointed star, which will likely be illuminated with its cybernetic graphics like the concept.
There is a light bar that is aligned across the bridge of the front end, and trigonous headlights neighbors the electronic grille that have minute LED elements comparable to that of the new S-Class. It doesn't appear that the lower bumper will feature real air intakes, just like the one that is also on the S-Class. It seems that the EQS is keeping the typical side-view mirror rather than digital units…but only time will tell if that will change.
Along with the new teaser, Mercedes-Benz revealed that the EQS will have an available HEPA air-filtration system, which is something that is starting to be implemented in a lot of new vehicles; Now with the COVID-19 pandemic, this soon become the norm. The automaker says that the HEPA filter will make the air quality of an EQS "like an operating room".
The unveiling of the full-sized EQS sedan will be in the first half of 2021 and before going on sale toward the end of that year. Following this, will be a smaller EQE model which is also in 2021. Finally, SUV versions of the EQE and EQS will debut in 2022.
John Sisson Motors
Although the wait for the electrified EQS may take a while, John Sisson Motors currently has a wide variety of premium vehicles that are just as sporty and nearly as technologically advanced as the EQS.
Those who crave something fast might like the 2020 Mercedes-Benz GT AMG® C Roadster, its horsepower pushes an amazing 550 horsepower with 502 lb-ft of torque. For those who are technoids, we recommend the 2020 Mercedes-Benz GLA 250 4MATIC® SUV, as it offers features like active-brake, blind-spot, and lane-keeping assist.
Those who are interested in any of our models can visit our website and take a look through our online Mercedes inventory, then speak with an online representative for further assistance.
Photo Source/Copyright: Mercedes-Benz