2020 Mercedes GLC 300: Why It's Mercedes Best-Selling Model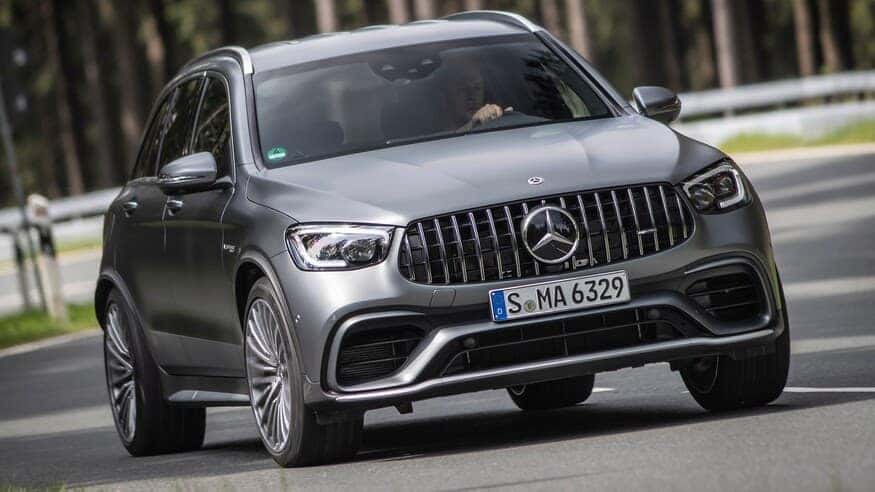 The 2020 Mercedes-Benz GLC 300 is a great recommendation for those who are looking for a family-friendly vehicle or really anyone who has a love for SUVs. The GLC comes with plenty of advanced features that are both standard and optional, the engine and handling are precise and mechanically vigilant, it also has a look to it that is very inviting on both the exterior and interior. 
This compact crossover without question is a vehicle that can provide the perfect mixture of style, comfort, and digital convenience, it's also for this reason why its currently one of the company's best-selling models.
High-Quality Features
This year's GLC has a new and improved MBUX infotainment system, as it trashes its 7-inch display for a 10.25-inch. The screen uses a higher resolution display and the increased size provides more proficient use of the dashboard's visual space.
The interface is also more configurable and structured, as the home screen has large icons for the main sections on the menu, simply enough, they can be swiped using either a touchpad on the center console or thumbpad on the steering wheel. The controllers are easier and more instinctive than the old COMAND® knob, and in effect, the driver has better control of the entire system without ever have to move his or her hand off of the steering wheel.
One of the highlighting tech features of the 2020 GLC is the new voice-recognition provides better use and improved understanding of human-language. The process of searching for a destination is also more simplified and the system always listens for the command "Hey Mercedes" in order to get the attention of the software. Android Auto and Carplay are standard but for an extra $200, drivers can get a wireless charging pad.
Along with the center display, the MBUX system can also be obtained with the optional digital instrument cluster for $750, this 12.3-inch screen can be customized and controlled by an additional thumbpad on the left side of the steering wheel. 
Mercedes also has a wide range of state-of-art standard features like a 14-way power-adjustable driver's seat with memory settings, an infotainment system with a 10.3-inch screen and a touchpad, Apple CarPlay and Android Auto, dual-zone automatic climate control, rain-sensing/heated wipers, self-dimming mirrors, forward-collision mitigation, Crosswind Assist, and power-folding rear seats.
An optional feature also includes the Driver Assistance Package for $1,700, which tacks on the new breed of Mercedes's Distronic adaptive cruise control, which allows the vehicle perform automatic safety features like adjusting the preset cruising speed centered upon the upcoming vehicle, published speed limits, navigation and traffic information or possible forthcoming collisions and road intersections.
Moreover, it's worth noting that the lane-keeping assist system has now been progressed to lane-centering assist, which means that it works more operatively to keep the large truck in its lane while zooming through the highway. Lane change assist has also been added on, it assists more with the steering to change lanes at speeds over 50 mph when the driver activates the turn signal.
Engine
The GLC 300 is powered by a new version of its classic 2.0-liter turbocharged i4 engine, it pushes 255 horsepower with 273 lb-ft of torque. The new and improved engine also pairs up with a 9-speed automatic transmission and comes in either a rear- or all-wheel-drive. The engine is certainly more developed and offers plenty of power, the transmission is also incredibly smooth as it shifts.
Overall, shoppers who decided to invest in the GLC will enjoy a drive that is nice and easy. The ride is very quiet and a lot of outside noise is blocked out.
Interior Comfort and Style
Inside, the cabin is quite luxurious as it is comfortable. Drivers and passengers are greeted by a stylish and sophisticated layout, and there is also more than enough room for everyone. The cabin seats five occupants and they'll have an ample amount of storage areas such as with the large glove compartment, large door pockets and a compartment in the center console. There is also 20.5 cubic feet of luggage space.
Updates that have been included are the optional Designo Black and Platinum White Pearl White Nappa leather trim. On the outside, the 300 SUV has new upper and lower grille designs and a slight, almost unnoticeable adjustment to the shape of the headlamps.  On the rear, the LED taillamps have also been restyled. More exterior options include 20-inch AMG® wheels ($750), AMG® Line styling package ($1,600), and a charmingly deep shade of Cardinal Red metallic paint ($1,080).
John Sisson Motors
John Sisson Motors is currently selling the 2020 Mercedes-Benz GLC 300 4MATIC® SUV for about $50,000, (plus destination fee). Those who are interested in this year's model can view our new Mercedes inventory and chat with an online representative for assistance.
Photo Source/Copyright: Motor Trend
*European Images Shown