2020 Mercedes-Benz CLA – Class Review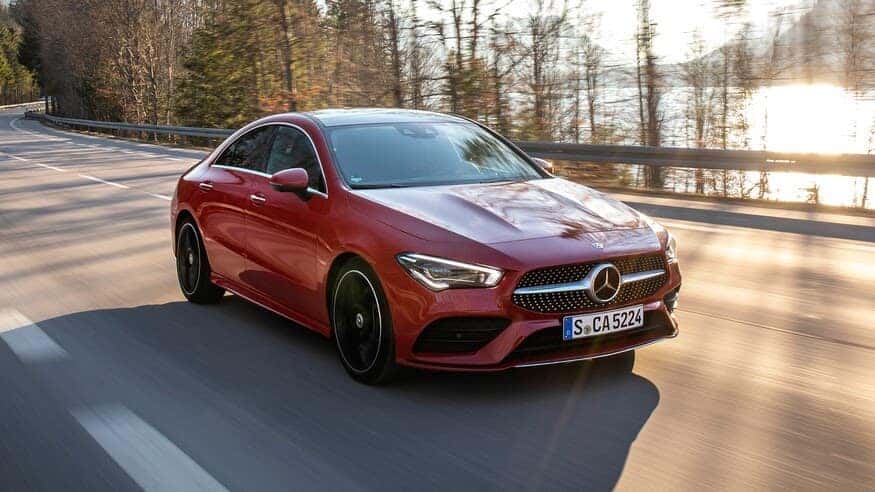 The CLA AMG®'s engine for the 35 pushes its power to a remarkable 302 horsepower with 295 lb-ft of torque. It includes exclusively performance-boosted partnering of the 4MATIC® with seven-speed dual-clutch automatic transmission. The estimated time from 0-60 in 4.8 seconds with a fuel economy of 23 mpg city, 29 mpg highway, 25 mpg combined driving.
The queen bee of the CLA's engines is its 2.0-liter four-cylinder AMG® with a twin-scroll turbocharger and a plethora of other mechanical modifications. It pushes an even more impressive 382 horsepower with 354 lb-ft of torque. The AMG® version of the 4MATIC® is standard while a torque-vectoring rear differential is added. The 45 also includes a dual-clutch automatic transmission and has 8 speeds. This sporty engine sprints an estimated 4 seconds from 0-60 mpg. Unfortunately, the fuel economy for this engine has not been yet announced.
Drive
The standard and traditional 250 is quite similar to its A-Class relative. The ride quality is smooth, crisp, and has no issues driving in any and all conditions. There is an optional adaptive suspension and a Comfort setting that makes the ride even more comfortable, as well as a Sport mode that makes the ride a bit more firm.
The chassis is concise and gives great feedback. Cutting the corners, the 2020 Coupe displays minor body roll and has great stability. Steering is also very exact and feels natural. The luxury pod is pretty quiet with the expectation of hushed tire noise and a bit of engine noise when really pressing on the gas. Acceleration on all trims is effortless and power comes on smoothly, this is further enhanced by the shifting transmission, which works almost without much effort.
Upgrading to the 35 will give you a much more superior version of a driving experience. With the added power and advanced handling, you'll zoom much faster, providing an experience similar to that of a sports car. The transmission is also very smart in terms of its timing as it shifts, though there is a bit more stiffness in the cabin and road noise.
Features and Packages
If there is one thing that you can always expect with Mercedes, it's their amazing interior and high-tech. The base 250 comes with standard 18-inch alloy wheels, LED headlights, a panoramic sunroof, dual-zone automatic climate control, power front seats, MBTex premium vinyl upholstery, leather-wrapped steering wheel, driver memory settings, dual 7-inch screens for instruments and infotainment, the MBUX infotainment system, five USB-C ports, Apple CarPlay, Android Auto and HD radio. There is also a plethora of optional equipment to choose from.
The CLA has even more features regarding safety. Standard driver-assist features include forward collision warning, automatic emergency braking, a driver inattention monitor system and other basics like traction and stability control, airbags and a rear-view camera. Blind-spot monitoring is available as an option, as well as plenty of other features like the Driver Assistance Package. The Assistance package includes adaptive cruise control system cross-traffic emergency braking, lane-keeping assist, evasive steering assistance, and crash preparation technology that activates the seat-belt pretensioners early, and adjusts the sound to protect occupants' hearing. There is also the surround-view cameras and automatic parking that comes with the Parking Assist Package.
John Sisson Motors
At John Sisson Motors we have a great selection of 2020 Mercedes CLA Coupe's, all of which are just under $50,000, (plus destination fee). Those who are interested in any of our models can check out our online new car inventory via our dealership website and chat with an online representative for more assistance.
Photo Source/Copyright: MotorTrend
*European Images Shown